Speedway's Youngest Ever Captain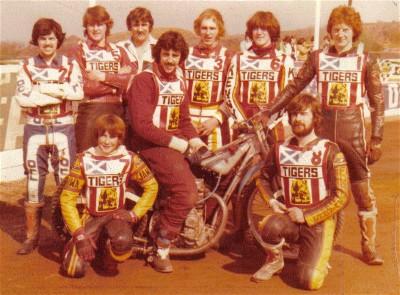 Glasgow Tigers 1980 - Robbie is bottom left
Who was the sport's youngest ever captain? An obvious guess would be that perhaps a fifteen year old had captained a Conference League side in recent seasons? They probably have, but they're still not the youngest! We reckon that honour goes to Robbie McGregor of the Glasgow Tigers.
McGregor, an Aussie despite having the most Scottish of names, joined Glasgow at the start of the 1980 season. He was accompanied on the trip by his father Barrie who became track manager at the Tigers' Blantyre circuit.
Glasgow had been rocked during the winter when Belle Vue loaness Derek Richardson and Keith Bloxsome had moved on to Newcastle. Richardson was the club captain and as such a new skipper was required. The promotion were unable to identify an obvious candidate from the squad and opted to start the season without a recognised captain, the honour would be shared around the side on a meeting-by-meeting basis.
The Tigers first match of the season was a challenge at Berwick's Shielfield Park. McGregor lined up in the reserve berth with seventeen year old Kenny McKinna and the two of them picked up a 5-0 win in heat two. For some reason the honour of team captain for this match was given to McGregor, an odd choice as this was his first ever team match in Britain. In truth it's likely that he did little other than toss the coin, but team captain he was, in name at least.
As the season progressed doubts began to surface about exactly how old McGregor was, he certainly looked like a very baby-faced professional speedway rider. The truth will out, as they say, and it did in this case. It transpired that Robbie was only fourteen years old and he was immediately banned from racing.
McGregor returned in later years to race, legally, for King's Lynn and Boston. Despite the promise he showed in those 1980 outings he was never able to make the breakthrough to National League standard and his career petered out. Glasgow abandoned the experiment of having no captain almost immediately and handed the job on a full-time basis to Andy Reid.
So there we have it. The sport's youngest ever captain was a fourteen year old called Robbie McGregor - unless you know differently!
This article was first published on 16th October 2004
[ Use Mobile Version ]
Comment on this Article | Contact Us | Go Back to Main Menu