Russell Paine Writes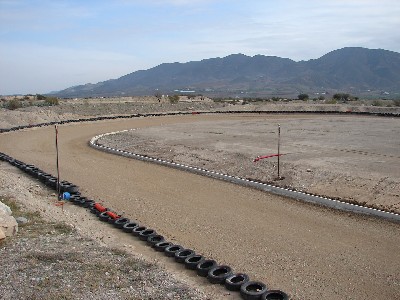 Russell's track near Almeria
Many thanks for your interest in our project. It is a great shame that we were not present on site when Mr Ward chose to pay us a visit, but we are currently chasing around trying to speed up our applications that are currently coursing through the system here.
As mentioned in your link, the safety fence in question has arrived and has now been cleaned, repaired and prepared for painting. The tyre barrier you can see in the photos was installed purely for asthetic puposes during the filming of our 'mock' opening for the tv show.
Following the erection of the proper safety fence this barrier will be taken to its full final height and take its place as a secondary safety barrier some five metres away on the bends and two-four metres on the straights. Once the installation of the kerb is complete, a further 350mm of dirt/shale will be layed to bring the track surface up to kerb top level. The majority of this material is currently on site awaiting laying while the final top dressing will come from our local quarry.
We very much appreciate your interest and once we get our final go ahead to continue work we hope to be open for our inaugural invitation meeting, that will hopefully raise even more interest locally and provide us with many customers wishing to take to a speedway track for the first time around May/June time.
All progress will be documented on our web site: www.motospeedway-espana.com
This article was first published on 17th February 2006
[ Use Mobile Version ]
Comment on this Article | Contact Us | Go Back to Main Menu