Soundbites: 3rd July 2004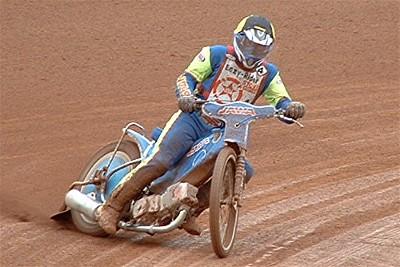 Alan Mogridge
"I thought the referee got a couple wrong - but what can you do. Heat 15 was terrible because we were on a 5-1 when Magnus Karlsson speared Alan Mogridge. There was no way he could get by doing what he did and he just took Mogridge out. The referee could have awarded it, but he excluded Karlsson instead and declared a re-run."
Dave Tattum on Wednesday's Hull v Stoke clash. The Potters lost 50-46.
"I opted for Claus because he was a former Swindon rider who scored over 800 points for the club. But he just didn't get dialled in and was very disappointing. I've had a fair bit of criticism over the choice of certain guests, but our hands are tied to a certain extent because of the rulings. If our own squad riders are unavailable we have to pick from riders who aren't in the one-to-nine line-up of any other Elite League and who have a maximum nine-point Premier League average. That rules out a hell of a lot of people. I did try to get Tomas Topinka on Monday but we wren't prepared to pay the money he wanted to ride at reserve. You could argue that the finances shouldn't come into it, but I didn't believe he would have the sort of impact on the meeting to justify the second-string heat leader pay he was after."
Peterborough boss Trevor Swales on his choice of guest on Monday
"At the start of the season Pete Toogood and I went for a team with strength in depth rather than a sharp spearhead with a weak tail, and the format has been working. But other teams are realising that the outcome of a match is often decided down the lower order, and that is where they are making their changes."
Somerset team manager Mick Bell
"The referee's decision was just unbelievable. I'm convinced that had the match been on television it would have gone ahead but the referee was not even prepared to see how it went for a couple of races. It's a financial disaster for the club and has cost us more than £3,000 in stadium rental, travel expenses for the riders, some of whom flew in from abroad, printing programmes, paying medical staff and so on. As far as I am concerned David Peet will never referee another meeting at Belle Vue while I am the promoter and the only way he will be welcome back here is if he pays his £13 admission at the turnstiles to watch as a spectator."
Belle Vue boss John Perrin after the Aces v Wolves clash was postponed
"I called it off at twenty to eight because in my opinion the track was unraceable. The third and fourth bends were too wet and sloppy and, though track staff did their best, it was still dangerous there after they had worked on it. Safety is the priority and when I spoke to the riders the majority of them did not want the meeting to start."
David Peet's view of events
"We have got that bad patch out of our system. David Howe is looking very good. He didn't quite get things right at the start of the season, but now he is gating really fast and racing well. Adam Skornicki is scoring points again and he can be the key man."
Mikael Max of Wolves
"What would be the point of being a speedway rider if you didn't have the ambition of moving up into the main body of the team? I think I've been riding pretty well at reserve this season and I got nine points at number four for Arena on Wednesday."
Peterborough's Henning Bager on his promotion to second-string
"I think we have a good chance of winning the group, especially if Joonas Kylmakorpi is passed fit to ride. He was in action again in Sweden on Tuesday and provided he had no ill-effects he will be joining us in Italy."
Kauko Nieminen on tonight's World Cup qualifier at Lonigo
"We put up a decent performance against a very good side and, since the arrival of Jason Lyons, we are going in the right direction. William Lawson is getting back to the sort of form we want to see from him, and everyone chipped in with a few points, which is what we need."
George English on Newcastle's 57-38 defeat at Reading on Monday
"I don't really enjoy having all these races together, I think it's too much. They organise accommodation for us to stay up there, but it's still difficult to prepare for the next meeting when it's on the next day. I can understand doing the Scottish meetings together, but having King's Lynn on the Wednesday doesn't help, especially as it's all quiet for a few weeks after that - they should make the fixtures more consistent."
Exeter's Seemond Stephens on the Falcons' tour. The match at Lynn was abandoned.
"I've tried to stay positive throughout the whole experience but I have to say it got on top of me at times and it's a massive relief to get the thing off. I know it was all about the best way for me to recover quickly from the neck injury and clearly it's worked so I have to be happy with that. It's great for me to be free of that now and I'm in a position to really start working hard at the physio."
Sean Wilson - now out of his 'halo'
"Once we lost Ray to injury so early in the meeting, we knew it was going to be a real uphill task for us to contain the Hull side, who certainly look championship material."
IoW boss Martin Newnham on Tuesday's home defeat
"I'm getting back in the groove. I'm hungry again and want to get back up there. It makes a difference when you are winning races and in a side which is top of the league."
Ross Brady
"Workington are in the semi-finals, we haven't got through the first round yet. It's no way to treat what I consider to be speedway's FA Cup."
Eric Boocock
"Newport have already lost a couple of times at home, and if everyone rises to their capability, and you need a bit of luck, we should win it outright. If we don't, I'd want to know what's wrong."
Buster Chapman on the Stars visit to Newport tomorrow
"We've got no complaints. We were beaten by the better team and our long home winning run had to come to an end at some stage. Nobody is invincible on their home track in the top flight. We just have to make sure we bounce back from this defeat when we entertain Belle Vue next Wednesday. What happened tonight has happened. We can't change it. We just have to put it out of our memories and firmly behind us."
Neil Middleditch after Eastbourne won 49-46 at Poole on Wednesday
"We have every confidence that he will prove a big scorer for us. A few weeks ago, some fans were pressing for James Clement to be dropped from the side, but he has come good in recent weeks and turned in some big scores. We believe that Matt will also develop in the same way."
Wimbledon boss Dingle Brown on Matt Wright
This article was first published on 3rd July 2004
[ Use Mobile Version ]
Comment on this Article | Contact Us | Go Back to Main Menu