Soundbites: 18th September 2004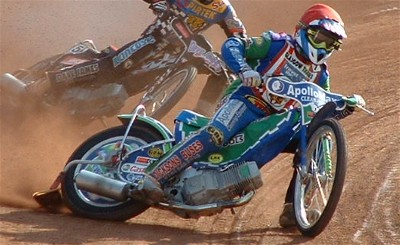 Stancl
"George Stancl was a brilliant guest and he fully understood we needed to score as many points as possible here to leave Newport holding the wooden spoon."
George English pays tribute to Stancl's 18 point haul for the Diamonds at Shielfield
"I will keep going until the end of the season as I am desperate to do my bit for the team because we are confident we can go all the way and make this an historic season."
Tony Dart of Mildenhall shrugs off his broken foot
"We were unlucky, but full credit to Ipswich. It was a brilliant meeting but we were beaten by a great team. Lee Richardson was superb and the way he went from third to first on the last lap of heat nine proved wrong those who say he can't come from the back."
Peterborough boss Trevor Swales on the Panthers defeat at Foxhall on Thursday
"We wanted to ride the meeting on September 27 because there is a stock car meeting at the stadium on Sunday. We advised the BSPA of a problem preparing the track for next week, especially if the weather is bad. All they did was send a fax threatening us with a fierce penalty. They didn't even have the courage to ring."
Terry Vernon of Belle Vue on the scheduling of their KO Cup clash with Coventry. The first leg was raced on 1st of April!
"We have produced some good league performances this season and are in the position we are in on merit. But we need to get the six points available from our last two home fixtures to reach the play-offs."
Stoke's Jan Staechmann
"The riders are all of a similar ability and that makes it hard to pick one out of the field - just as it was for the Champions' Chase. I have ridden there frequently and maybe that gives me a bit of an advantage but there are too many good riders in the field for it to make much of a difference."
Craig Watson looks forward to the PLRC
"I understand fully his family and the ambition they hold for him. But I think Rory would be better with another year in the Premier league given his age. He would be better leaving the Premier league as one of the top dogs. He is not in that position at the moment, although he is doing very well."
Alex Harkess hopes to keep Rory Schlein at Armadale for another year
"We're still in with an outside chance of making the top eight for the end of season play-offs so we need to keep rattling up high scores and I thought Craig Branney was outstanding as we'd asked him to ride as a reserve but then pushed him up to number three in the team."
Berwick manager Tom Graham on Wednesday's win over Newcastle
"We had three choices last September, shutting down, dropping down to the Premier League or taking a huge gamble and staying in the top flight. It was a close thing and we knew we dare not get it wrong after failing our public in 2003."
Magda Louis
"Sergey once again showed his ability against Oxford on Monday night and I've said to him that he must wish he'd come over here earlier as he could be a Grand Prix rider by now. He has been superb for us, both on and off the track, and everything about him is right. Who knows what he could have achieved had he come to Britain 10 years ago, but commitments in Russia don't always make things easy."
Colin Pratt on Sergey Darkin
"I obviously feel flat having missed out on the play-offs - I honestly thought we could still get there until this week. Only pride was at stake tonight but this was also was a good win for the fans. We never looked in any danger tonight and won comfortably. It could have been an even bigger margin."
Alun Rossiter on Swindon's win over Arena on Thursday
"He's a lively performer and could prove a key factor on the bearing of the match. We'll be very much the same side that faced Buxton in Wednesday's Conference League match. We are still waiting for Andre Cross to report fit from his broken thumb. Andre was hoping to have the metal pin removed from it this week, after which he'll be in contention with the youngsters James Clement and James Theobald for one of the two reserve berths. "
Wimbledon promoter Dingle Brown on facing Joel Parsons at King's Lynn tonight
"It's brilliant we made it in such style with the bonus point. Everyone said we'd be wooden-spoonists. The people who at the beginning of the season didn't turn up because they thought we had a rubbish side missed some good speedway."
Buster Chapman of King's Lynn. Their win over Exeter ensuring their play-off place.
"It's bad news as crossing the Solent in October is not the best of trips and they won't bring many fans up here for the home leg. Therefore, from a business point of view, Workington would probably be a better bet. On the track, we've already lost on aggregate to Comets, but did beat the Isle of Wight away when they were under-strength. But let's not forget we haven't beaten Exeter to get to the final yet."
Eric Boocock who expects Hull to face the Islanders in the cup final
"The boys have been magnificent in riding so many meetings in such a short time. If it wasn't for all the postponements we would have made the play-offs easily. We have beaten all the top teams and crushed league champions Poole last night. There has been so much wasted effort and it is such a shame we hadn't had a little more time."
John Perrin
This article was first published on 18th September 2004
[ Use Mobile Version ]
Comment on this Article | Contact Us | Go Back to Main Menu