A Tribute to Scott Robson
By Steve Harland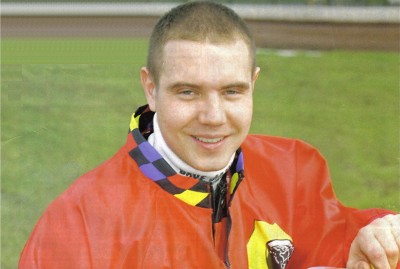 Scott in Middlesbrough colours in 1995
The name Robson has been synonymous with speedway in the north east ever since the mid seventies when John Robson, the father of Scott & Stuart, switched sports from stock car racing to speedway. It was at his hometown track in Sunderland that John began his speedway career. At that time the likes of Jack Millen, Jim Wells, Dave Gatenby, George Barclay and Russ Dent were the team's star performers. They may never have won any trophies or league championships but there was always a friendly atmosphere on Wearside. Speedway ceased at Sunderland at the end of 1974 and the team were transferred to Newcastle but the Diamonds had such a good side back then and opportunities for junior riders were few and far between.
John was an honest, wholehearted rider who whilst on the verge of a breakthrough for the Teesside Tigers in 1977, never really had the luck and consistency that accompanied a regular team place, though he certainly had his moments. It speaks volumes for John that his two sons Scott and Stuart, have gone on to become consistent riders for a number of teams they have appeared for. Both, to John's pleasure, have scaled bigger heights than he himself did.
Scott is remembered, like his father John, as a wholehearted rider who would do a good job in the 'engine room' of the team. Whether he is leading from the front or working his way through from behind Scott was always good value. In fact Scott was prominent in the club's final two seasons at Cleveland Park before the land on which the stadium stood was sold for redevelopment in the summer of 1996. I can remember his efforts to help the team avoid finishing in the dreaded 'wooden spoon' position at the bottom of the league. Together with David Walsh, Stuart Swales, Mike Smith, Toni Svab and Shane Parker a decent Premier League team in 1997 could have been reality, alas much to our frustration speedway has never returned since.
Like his father, injury has halted his progress at vital times. An incident against Ipswich at Cleveland Park involving Leigh Lanham readily springs to mind which resulted in Scott dislocating his shoulder. Thankfully he made a full recovery and since leaving Middlesbrough has been something of a journeyman with spells at Hull, Berwick, Eastbourne, Coventry, Belle Vue and a more consistent period with Rye House, where I understand he is very popular with the fans. Off track he is quiet and unassuming but once he is on track he is a consistent performer who is respected by rivals.
Thanks for the memories, Scott.
---
T2TV have videos available of Scott's testimonial. It features plenty of interviews including Scott, Stuart, Len Silver, Billy Hamill, John Sampford and Craig Boyce plus all the action including the Men in Black. It's 90 mins long and retails for £15 including p&p. Contact details can be found here.

This article was first published on 22nd October 2004

[ Use Mobile Version ]

Comment on this Article | Contact Us | Go Back to Main Menu