The Office
Speedway is briefly discussed in the hit BBC Comedy "The Office".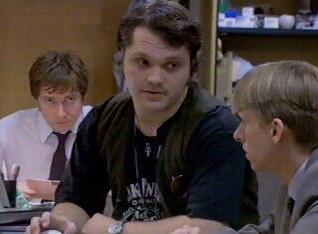 Tim, The IT Guy and Gareth
The conversation goes as follows:
Gareth: You ever had a go at Speedway ?

IT Guy: Have You ?

Gareth: Yip !

IT Guy: Right, I was doing it once and I was bombing it round. Some idiot had left like a ramp thing out

Tim: Litter Bugs !

It Guy: I could see the people going "Oh my God, if that guy hits that ramp, going at the speed, he's definitely dead".

I hit the ramp, I took off in the air, I turned over in the air. They were going "Well he's definitely dead now".

I landed on my wheels, pulled over and said "What were you worried about ?"
This article was first published prior to October 2002
[ Use Mobile Version ]
Comment on this Article | Contact Us | Go Back to Main Menu