We are the Champions?....by Dave Green
25/09/2004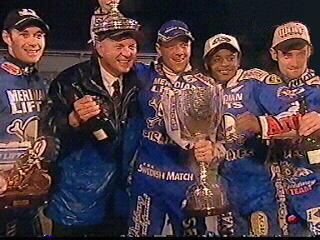 Poole celebrate winning the 2003 play-offs
"There is a small reward for finishing top of the Elite League, a five-figure sum the amount of which I cannot disclose. We are really looking forward to receiving that but now the serious business comes when the title play-offs start, and as much as there is no financial reward for winning it, our whole season has been built around those two play-off final meetings."
The above quote, attributed to Matt Ford the hairdressing promoter from Poole, has made me question exactly how important the much-hyped Play-Offs really are. Certainly Jonathan Green and his cronies at Sky have never been shy about extolling the virtues and importance of these end of season shoot-outs, but do the promoters feel the same?
By financially rewarding the team with the most league points, at the expense of the team we're being asked to consider 'the champions', does suggest that the BSPA regard the play-offs as little more than some end of season window dressing, a sop to Sky TV to ensure they get a dramatic finale to their season of coverage.
Don't get me wrong, I loved watching last year's playoffs. They genuinely do provide an exciting climax to the season and I wish them to continue. They also add excitement to the league campaign as a whole, the fact that almost all teams remain in contention for a place ensures we get to see some competitive action.
I readily accept that it's highly possible that the 'league winners' and 'play-off champions' will often be the same side, and that all clubs have agreed to allocate the prize fund in this manner. However, my enjoyment of this year's final will be tempered by the knowledge that Poole have already been rewarded for their 'championship' win. In my view there should be no room for ambiguity, a single team should be crowned as champions and they should enjoy a fulsome reward for their success.
This article was first published on 25th September 2004
[ Use Mobile Version ]
Comment on this Article | Contact Us | Go Back to Main Menu