West Ham - An Alternative Perspective
By Dudley Jones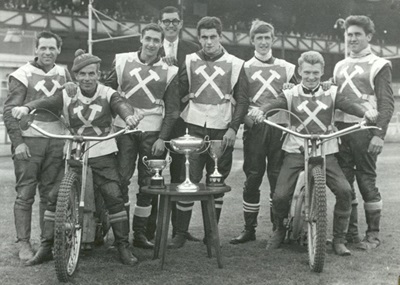 West Ham Hammers 1966
Dudley responds to our recent article - My West Ham Memories by Jim
I first saw speedway at Norwich in their final three or four seasons. About the time of closure of Norwich my mother moved to Great Baddow, Essex and I first went to Custom House during the Hammers second season after re-opening.
The stadium had more in common with Wembley than Norwich, it was big and impressive. Crowds did not fill the stadium, but it was a large stadium. I had a different view of the stadium to Jim. Yes it was getting on in years but it looked pretty good and support was enough to make the place look reasonably busy. There were a fair number in the main stand but I frequented the third bend where, initially, there was generous covered accomodation.
Things were done fairly well. The bikes were pushed out by staff in red, blue, white or yellow outfits. Things were still done, I suspect, in the manner of the 1950s, this was a proud place.
Having missed the intial reopening season, I had to get used to Ken McKinlay as captain, which was no hardship at all. Ken was a great rider, immaculately turned out and one of the best racers the UK had, as well as one of the best captains.
I was privileged to regularly support on Tuesday nights, even though I had to commute there from Chelmsford. The Hammers had some great riders, including Sverre Harfelt, Malcom Simmons, Brian Leonard. The Hammers achieved the triple in one of my years of support, I think it was 1965, and I was (almost) as enthusiastic about them as I had been about Norwich.
As Jim says the track was very wide and fast, but the racing still managed to be excellent.
In 1968 I went to work in Carlisle and lost touch. Things went down a little I think and by the time I was back the Hammers were no more and so started a few very pleasant years supporting Rayleigh.
I am sorry that Jim was not impressed, the place is still dear to my heart, along with Norwich, Rayleigh, Ipswich, Kings Lynn and Long Eaton.
This article was first published on 20th November 2016
[ Use Mobile Version ]
---

Barry Whiffin:

"Dudley is quite right, the old Custom House was and excellent place although, as he says, showing its age in later years. Despite it in theory being too big by modern standards in terms of likely crowds for regular meetings (something that can be said for many sport stadiums) the nature of the old contruction allowed the sounds to reverberate around as well as containing the famous speedway smell.

As for the track I am as bemused as Dudley with Jim's comments. Yes wide and fast (because it was a big track) but also very competitive allowing for close racing and overtaking. I do not recall seeing all four riders racing side by side right to the last bend on any other track. The racing standard might have had something to do with the specific red shale but, I understand, most likely also, from the very earlly fifties, as a result of the transfer of Jack Young, not a notable "gater" and needing to race from the back, who insisted as part of the transfer terms that the track was adjusted to make the bends wider and overtaking more possible. I also believe that the Kings Lynn track was based on the design of West Ham.

Unfortunately old films do not really do justice to the racing standard but this is down to the past technical difficulties of filming speedway before the equipment now available existed. Its demise was really just another case of inner city land being worth much more for other uses, not an original story!"
Robert Rogers:

"Briggo said the West Ham Track at its best was the best in the World, and who are we to argue with Barry!"

Comment on this Article | Contact Us | Go Back to Main Menu