CHORZOW / KATOWICE - Poland
Pictures courtesy of Andrew Davidson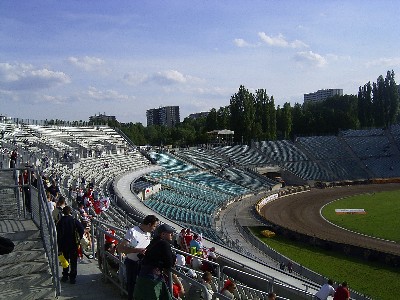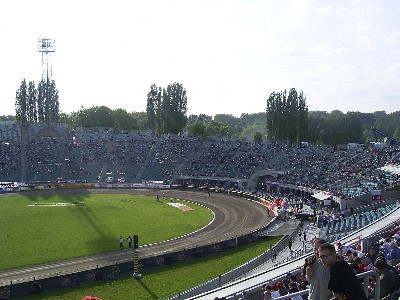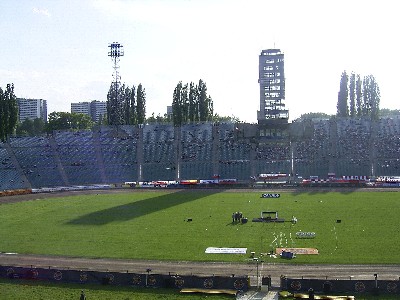 Pictures courtesy of Graeme Frost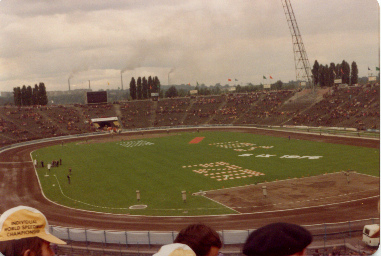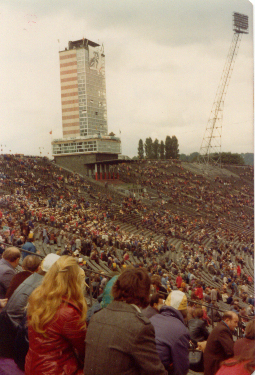 This article was first published on 19th August 2005
---

Peter Hunter:

"Holds the world record speedway attendance at somewhere between 120,000 and 130,000 for the 1973 World Final. From what I've read and seen, the Polish referee made sure that Jerzy Szczakiel wasn't the only Polish rider on the podium with a ruling from Heat 19 that was pretty disgraceful....."
Ian Harwood:

"There seems to be cofusion about who the referee was for the 1973 World Final at Katowice. Peter Hunter (SpeedwayPlus 2.2.14) states the referee was Polish, as does the Wikipedia entry for the event, however this Polish referee is not named. Contemporary reports have the referee down as Georg Transperger of West Germany. "
Tracy Holmes:

"The 1973 World Final referee was indeed George Transpurger, West Germany. The spelling may not be exact but he was referee for this one as well as 1971 and 1972. "
Alan Dixon:

"Anyone got memories of that 1973 World Final, I " WAS THERE " as they say, as a fanatical speedway fan in 1973 , at the age of 17 , went through my own devices to Katowice that September . Posting this comment after reading week on week great feedback on the nostalgia of years and meetings ( and proper presentation of those meetings of the past) but hugely frustrated and annoyed and angry that current custodians of the sport seem to me do not understand what is required to bring this fantastic sport to a greater audience in any way, shape or form.

Recognition that the world has changed from 1968 ( my 1st Meeting, Newcastle 46, Hackney 32 if memory serves me correct ) to 1973 to today. However, whilst I don't wish for black leathers again, I do wish for someone to take an absolute control without any vested interest, to take the bull by the horns and address once and for all the big picture and provide blueprint going forwards that everyone buys in to that will see us in the years ahead as prominent as we were in 1968/69/70/71/72/73 in the national consciousness. Sorry, but I end on a personal note, the travelling road show /circus that is the GP is a joke and if not addressed will be known as what circuses are now known as ."
Dave Beacon:

"Georg Traunspurger (correct spelling) was the referee (Sedzia in Polish) at the Slaski Stadium, Chorzow, Katowice in 1973. Jerzy Szczakiel deserved to win the World Title on the day, particularly as he and fellow Pole Pawel Waloszek team-rode Mauger into third place in heat 8. The heat 19 incident did rob Grigori Chlynowski (USSR) a place on the podium as he was good enough to beat Szczakiel in heat 15, something Mauger did not manage throughout the meeting. The crowd there was immense, but being a completely open stadium, the atmosphere did not compare to a full-house at a Wembley World Final."
Peter Hunter:

"Have to admit that I was only going on reports I've read that while not naming the referee, did say he was Polish. I'm happy to stand corrected on that. Szczakiel did deserve to win on the day and didn't need help from the referee (while I do believe Zenon Plech was very fortunate to finish 3rd, that should have been Ole Olsen's). But that day just showed how any of the 16 riders could win the title on that single day. The Pole raced in Katowice like he never did before, or after for that matter. Take the World Team Cup final at Wembley just two weeks later. Last in his first ride, failed to finish his next two and was excluded for breaking the tapes in his 4th. He didn't even get to run his fifth race and as the new World Champion scored a grand total of zero points as Poland came in dead last. Not exactly what they would have expected considering they had the #1 and #3 in the World in the team."
Tracy Holmes on Chorzow:

"Re Jerzy Szczakiel; Hi Peter, I hope you dont mind but I want to comment on your line, "The Pole raced in Katowice like he never did before or after for that matter." Just wanting to remind people or point out to those who dont know that Jerzy won the 1971 World Pairs Final with his partner Andrzej Wyglenda at Rybnik unbeaten. Watch it on You Tube and you can see how he thrashed Ivan Mauger and Barry Briggs in an amazing from the back ride that Peter Collins would have been proud of in the coming years. It's true that his glorious duck at the World Cup Final of 1973 is legendary but these quotes from Ivan Mauger himself, prove that Jerzy was a class act and worthy of the title, Speedway Champion of the World:
"Usually it was easy to predict where the big challengers were coming from but for many speedway followers, Jerzy Szczakiel's 1973 World Title victory was the biggest upset in the history of the sport. All I can say to that is, had anybody seen him at the World Pairs Final in Rybnik a couple of years earlier, when he and Andrzej Wyglenda were unstoppable, they would not have been quite so shell-shocked."
"It is an unfortunate tag for a pleasant, unassuming man who not only was a whole lot better than that reputation suggests, but legitimately earned himself a place in the record books which hundreds of other supposedly better-credentialled riders never achieved."
David Lewis:

"I have to agree with Tracy. It hacks me off when people have a pop at Jerzy Szczakiel. Anyone who knows anything about speedway will understand his history and that he was anything but a flash in the pan. You don't beat a world class field in two world finals by fluke and to even consider that to be possible is naiive at best. Further, when the greatest of them all, Ivan Mauger, says he was a class act, it's safe to say he was a class act. Ivan knows a thing or two about speedway."
Niclas Jansson:

"About the heat 19 incident. I don't agree that Plech was lucky. He was knocked off by the Russian while leading on the last lap and should have been awarded Three Points. Now Peter Collins was awarded the win although he was last when the incident occured."
Slavek:

"I was there 1973 and I can say Szczakiel was lucky and of course riding at home helps him a lot. Referee had something to do with his luck but Mauger on many occasions wasn't always clean with his starts and maybe that was a day he paid back for it.

However the biggest victim of poor, and bad referring was the best rider of the day Mr Chlynowski. In the most important race he overtook Plech and when Plech realised that all his dreams are nearly gone he literally jumped on Chlynowski when he was passing him, I was 50 meters away and I could see all very well.

Polish mass media made Plech champion before final and this young man was under tremendous pressure. Till today I have guilty conscience because the great sportsman was robbed of the title. Mr. Chlynowski in the name of all fair Polish speedway fans I sincerely apologize. "
Tracy Holmes:

"It is so good to hear eye witness reports because all I have is video and camera angles can be deceiving. I too think that Chlinovski was robbed of a place in the run-off. Could he have won ? Yes but we will never know. We must not forget too that Chlinovski was beaten in his first heat by Vladimir Paznikov. As for 'luck', it all worked itself out in the end. Szczakiel was lucky because when he met Mauger in heat 8, Ivan made possibly THE worst gate of his World Final career. But there was nothing lucky about Jerzy Szczakiel thrashing the defending World Champion by 8 lengths ! Mauger was lucky because Szczakiel also dropped two points. And they both broke the tapes and got away with it. Lets not forget too that Ole Olsen was injured and that showed in his score. A fully fit Olsen could have won that meeting unbeaten. And Plech was lucky too. He should never have been awarded 2 points after falling in his last heat. The result of heat 19 should have stood and that's where we came in. Great to hear from you Slavek !"
Kazimirka:

"The whole 19th heat is on YouTube - in my opinion definitely Chlinovski should be disqualified and bad that this heat wasn't repeated"
Peter Hunter:

"I do think its a shame that Jerzy Szczakiel has the reputation of a one hit wonder because from all reports, he was better than that. I think part of that though is that he rarely rode outside of the Iron Curtain so people, especially the Brits, rarely got to see him. And it's not because he didn't want to, but because the Polish authorities wouldn't allow him to for some reason. They allowed Edward Jancarz and Zenon Plech to race all over the world, but not Szczakiel.

Ivan Mauger definitely recognised his talent though and when he and Barry Briggs were running their troupe's all over the world in the 70s, Jerzy was invited to be part of it, but he was simply never allowed to go. But one thing that can never be taken away from him is that he is a genuine World Speedway Champion. As was said above, there were supposedly better credentialed riders who never even got close to being that. But he did."

[ Use Mobile Version ]

Comment on this Article | Contact Us | Go Back to Main Menu