The BIG Feedback Special
Mike Pauly on Some Thoughts on the Future:

"Ivor craine's comments are obviously based on a love of the sport. I would prefer to see a comment about what positive action was to be taken; rather than reasons why they will not work."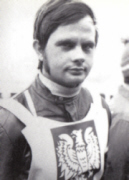 Robert Horwat on Riderts to Remember: Jerzy Szczakiel:

"This article answers a lot of questions and somewhat humbles me a little - it just goes to show how easy it is for pretty much anybody to make you think 'the way they want you to think' as the British Speedway press did not only at the time but for years afterwards.

Jerzy's 'shock win' caused chagrin for years afterwards. I freely admit that at the time I went along with the 'talentless Pole with a lucky freak win' label he got mercilessly stuck with but I am delighted to be put straight about Jerzy's well deserved moment of glory.

I checked my 1977/8 part works volume of the history of motorcycling 'On Two Wheels' (Orbis) to see what Louise Quinnell had written of Jerzy's achievements and her two page biography 'One Day Wonder?' reads pretty much as Tracy's account above, except there is no real explanation as to the reasons he was 'replaced' time and again by Jancarz by the Polish authorities. Now I know why.

What a gentleman and a true professional - the authorities did their worst yet he dealt with it all in a way that shows the true spirit and strength of character of a true world champion."
A.A.Ayres on Special Events at West Ham:

"As I recall the one lap record attempts were known as "The Bluey Wilkinson Trophy" and were over one lap FLYING start (ie: the rider was allowed one lap to reach maximum speed before crossing the line to start his attempt). It was an invitation event held one a month and although such riders as Jack Parker, Bill Kitchen and Ron Johnson took part I never saw the record beaten.

Bluey also held the 3 lap clutch start record (subsequently beaten by Cliff Watson) and the 4 lap clutch start record (finally beaten by Jack Young).

The Golden Helmet was the British Match Race Championship held for a long time by Jack Parker (it became known as Parker`s pension). Challengers were nominated by the Control Board and challenges were contested on the home tracks of the reigning champion and the challenger again usually once a month.

I seldom missed a meeting at Custom House between 1947 and 1952, and have happy memories."
Ross Dow on Bob Ferry's Defence of Sunderland:

"The big difference between Bob Ferry and Dave Gifford appears to be a sense of humour - Giffy's got one. Lighten up Bob - have you never heard of 'poetic licence'? If Giffy wrote his stories in a dead pan, factual way, no-one would read them.

Sunderland is a down to earth friendly place but will never be regarded as a place of wonderous beauty - If Charles Lutwidge Dodgson had written a book called Alice's Adventures in Sunderland with a factual account of life there, I doubt that he would have been published. As Lewis Carroll with a Giffy-esque twist to life and a slight change of place name it is regarded as an all time classic.

Keep your classics rolling in Giffy! Don't let boring facts get in the way of good storylines. The bigger the porkies the better. Convince us that you always missed the gate and scored all of your points from the back (o.k. no-one is likely to believe that one but it sounds like a good storyline). More power to your elbow."
Vic Leversha on Gowing Up With the Hammers:

"I feel a bit of a fraud commenting on this article because I have never been a real fan of football. However, as lads my brother and I were great fans of WH speedway and as ancient monuments we have been planning trips down memory lane.

Of course in our day the names were Tiger Stevenson (Capt.) Bluey wilkinson and Phil Bishop. (I can't think of the others). I still clearly recall the distinctive smell of the burnt fuel as well as the noise.

Excitement was intense for we young lads. Many a time we helped them with our shouting and I think much to the amusement of others next to us in the stand. Of course the war intervened and we eventually made a run for shelter with a relative in Hertfordshire.

We have never been back since but as I say my intention is to revisit all sites of interest to us including our old school and whether the speedway still operated. You have cleared a couple of points ie. the original stadium is no more, although speedway is still giving its thrills. (It was Hackney and White Cross the hated enemies in my day!) "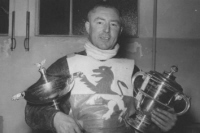 Raymond Francis Seymour on Bill Kitchen:

"Great pictures, the first time that I saw Bill Kitchen ride was at West Ham in 1947, the British Riders Championship. I think he won the ride off against Bill Longley & Malcolm Craven. What a wonderful captain for Wembley and a very clean and fair rider. Happy memories, I still follow speedway with the Rye House Rockets. And I Have complete volumes of the Speedway News from 1946 up to 1954 complete, that I often look through."
Kevin Ison:

"As a sixties supporter of the Coventry Bees, there were two (I thought) very good team riders from away teams, these were Ron How of Wimbledon, and Dick Fisher from Belle Vue, does anybody know what happened to these two riders?"
Peter Reid:

"It would be great if the Musicians amongst the speedway Riders could do a gig before the British Grand Prix. John Robson (former rider) plays bass guitar and I believe Sam ermolenko is handy with a guitar too, must be others ? A one off performance at the GP, can't do any worse than what we saw at the German GP - Right Said Fred - and their drummer wasnt even the one off the DAZ advert!"
Phil Sharples on Hyde Road:

"These pictures bring back so many great memories....great speedway history in a well informed web site...keep doin it, best regards to all."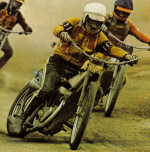 David Smith on Bill Elliot's Dream Team:

"What a great article on Paisley Lions, reading about riders that race for Lions it's a pity what happened. It bring happy memories. It would be good if someone could form a website and find out what happened to all the riders and others who were involved with Paisley Speedway."
Heather Davies on Craven and the Chads:

" Have just read the above article, and hope you will remember my father Frank Maclean the speedway reporter. I am writing a short article to be included in a booklet regarding Liverpool history and whilst looking back found the above article. I can very much remember Stanley Staduim and did actually go to Ainsdale beach with my Dad one very foggy Sunday. Thank you for the very clear memories. "
Steve Knight:

"Love the site and information. Nice to see some Australian stuff there as I am in Victoria. Go the Aussies for 2008!!!!"
Tony Webb on Riders to Remember:

"One rider I will always remember is Peter Vandenberg, who rode for Wolverhampton in the 1960's. He was always VERY approachable and always had time for the kids. He pointed me in the right directions when I asked him to review an article I had written for a school project about 40 years ago! Surely this says an awful lot about the man, may he rest in peace. Gone but never forgotten! "
Michael Edwards:

"Great site with some great contributions. Personally I enjoy Dave Gifford's writing but I don't live in Sunderland!

Having been a supporter since the seventies with a break between 1987 and 2002 can anyone tell me why the old Tactical Substitute when 6 points behind after heat 6 went by the board? It seems to me it worked well and kept matches close because most teams have two riders who do well at most tracks, it helped second strings improve against top oposition because they were generally targetted when substitutions were made. It certainly livened the crowd up at King's Lynn with David Gagen out against an opposition heat leader in Heat 8.

The current Tactical Ride seems daft as it's once in a match and once done the team manager has very few alternatives except reserve for reserve unless I'm missing something? I seem to remember the only concession is that reserves had to have a minimum number of rides and that could still be enforced, but if each heat leader or second string could have an extra ride as long as his team was six points behind it might bring matches closer, make three points for an away win more viable and improve entertainment by bringing the best opposing riders out more often. "

This article was first published on 24th April 2008
---

Ian M Martin:

"I know Bob Ferry very well - he does have a really good sense of humour and fun. In support of his stance regarding the Dave Gifford article, I would just like to say the following.

We the people of Sunderland are sick and tired of everyone running down our City (to be fair Dave would not be aware of this). It is not just the Speedway world - we do NOT get any cover from the local Television companies either. We are the BIGGEST connurbation in the North East and yet we have to feed on the scraps left over from Middlesbrough and Newcastle. This is NOT a rant at either of those two places - both of which are great places to visit - but a plea for fairness.

Even in Speedway we have only had five years of operation, the last time in the early 70's. To close, most people in Sunderland are very proud of their City and do not like it being criticised. I realise that this response may make a few people think that we in Sunderland have a siege mentality - WE DON'T. We just want a level playing field. Sunderland is a great place - WHY NOT COME AND HAVE A LOOK!!!"

[ Use Mobile Version ]

Comment on this Article | Contact Us | Go Back to Main Menu