Growing up with the Hammers...by Harry Ward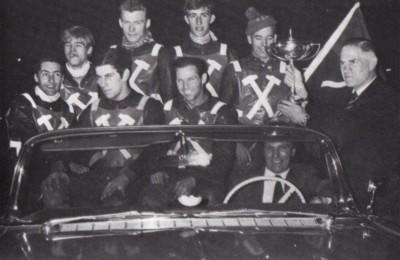 West Ham's Championship winning side of 1965
Growing up in West Ham in the sixties has left me with boyhood memories that rival the best. I had two great slices of luck. I lived until the age of seventeen in Varley Road, Custom House, a mere one hundred yards from the main entrance at West Ham Stadium. On top of this I went to secondary school at St Johns RC school which was built on the forecourt of my other love West Ham United FC.
From 1964 when speedway reappered at West Ham after a ten year absence Tuesday night was the night I looked forward to. Bjorn Knutsson, Ray Cresp, Alf Hagon, Bengt Jansson and Norman Hunter were the ones I remember most. We had a very poor season that year but I remember best entering the stadium for the first time and I couldn't believe the size of the track. Having previously watched racing at New Cross and Hackney the West Ham track was a giant in comparison.
However each day at school was a treat as I used to see my Football heroes Moore, Hurst and Peters, to name a few, training outside my classroom window. Obviously Maths and English took a back seat. In contast to the poorly peforming speedway team the football club won the FA Cup.
In 1965 West Ham United were crowned European Cup Winners Cup Champions at Wembley. As a ten year old I was there. I quickly forgot about the Football triumph as the Speedway Hammers won everything they entered. The London Cup, The Knock Out Cup and The British League trophies all came to Custom House. I honestly can't say which of the trophies gave me most pleasure because I really don't know. 1966 has a place in English sporting history as West Ham footballers were instrumental in England winning the Football World Cup. Being a West Ham boy was so exciting.
It's funny though looking back on those three glorious years I'm sure you would expect my top sportsman to have been one of the footballers...Wrong! Norm "The Storm" Hunter was the man. Having watched Norman at Hackney in 1963 I was overjoyed when he moved to Custom House. In 1965 he was top dog as far as I was concerned. Yes they were great days to be from West Ham as not only was there Hurst, Moore and Peters but there was also Norm "The Storm Hunter", Ken "Hurriken" McKinlay, Malcolm "The Dockland Pearl" Simmons. Sverre Harrfeldt, Brian "the heartthrob" Leonard, Reg Trott, Ted Eade, Stan"the Man" Stevens and so on. Lastly I must thank Dave Lanning for thinking up those ridiculous nicknames ,but more importantly, having a side that was better than "leaping" Len Silver's Hackney, the true enemy.
This article was first published on 25th September 2004
---

Robert J. Rogers passed comment on our articles:
"How nice to see the old names and faces. I am suprised with West Ham Speedway`s great history, that nobody has set a web site for them. You may be interested to know that the Canadian Vintage Motorcycle association has just had Eric Chitty added to the Canadian sport hall of fame."
Edmund Dias:

"I wonder if any suitable manufacturer has thought of producing West Ham Speedway commemorative retro-style t-shirts. In an age of predictable nostalgia, this would be a a testament to an often neglected part of British sporting and social history."
Ron Cornell on Growing up with the Hammers:

"I came to speedway in 1967 and remember 1/Harrfeldt 2/Leonard 3/Hunter 4/Stevens 5/McKinlay 6/Simmonds 7/Barclay - every Tuesday and some Saturdays for individual championships or internationals. we would climb over a very tall fence, hide in the toilets until the gates opened and then pay the extra to be in the expensive bit. Nobody could make out how we afforded it, we were 14 years of age...happy days."

[ Use Mobile Version ]

Comment on this Article | Contact Us | Go Back to Main Menu