1973 - Speedway Ruined My Toffee Apple
By Ian Harwood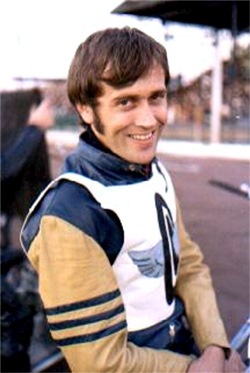 Anders Michanek
Previous chapters: 1970 ; 1971 ; 1972
Even as the new season started there was doubt about where Ivan Mauger would ride. Belle Vue started the season with a Northern Trophy match against Halifax with Ivan "away on business", which might have meant not back from America yet. The Aces won easily with a team that was to turn out to be well up to the job, accidents permitting. The second half gave us out first look at a new young rider who would go on to have a forty year connection with Belle Vue speedway, Chris Morton, who despite winning his heat in the Colts Scurry could only finish third in the final.
Two weeks later it was confirmed that Ivan Mauger would no longer be an Ace. With what seemed like undue haste he was snapped up by Exeter who bent over backwards to sign the world's best rider, even going to the extent of offering to fly him from his Cheshire home to Devon every Monday to race at their County Ground track. In bizarre coincidence Belle Vue's first away league match was away at Exeter before matters were settled, and without Ivan in either team the Aces thumped the Falcons 28-50.
With Ivan Mauger gone Soren Sjosten was expected to be Belle Vue's top man, yet it was Chris Pusey who most seemed to relish the added responsibility and started the season racking up regular home maximums. With Peter Collins, Alan Wilkinson and Eric Broadbelt also regularly scoring double figures Dent Oliver's decision to stick with the home-grown talent seemed to be paying off. Oxford were knocked out of the Knock-Out Cup, and Coventry in the league were dispatched without much effort for a score of 59-19.
When the World Championship Qualifying Round came round it was Ivan Mauger's first visit to Hyde Road as an Exeter rider. Ivan still lived in Woodford, Cheshire, and was probably the most local rider in the line-up, but he wasn't a Belle Vue rider anymore and all empathy had evaporated. It wasn't his fault he wasn't an Ace but now he was the enemy. Not that that had any effect on him as he won with a maximum, pipping Chris Pusey by a point.
When Ole Olsen brought his Wolverhampton team to town none of the Belle Vue riders could beat him. With tactical substitute and rider replacement rides he rode to six straight wins. Fortunately he didn't get enough support from his fellow Wolves and the Aces ran out 44-34 winners.
Exciting news for beer and sausage lovers that week was the announcement that Belle Vue was opening a Bavarian Beer Hall in the zoo park grounds. Offering an authentic German setting, its six day launch event offered 1,458 different varieties of sausage from finger-sized frankfurters to the cucumber-sized cervalet. A giant seven-feet long sausage made especially for Belle Vue was to be displayed. To avoid any risk of choking on this positive propensity of pork product almost 100,000 pints of beer would be available from four top German breweries.
The last day of May would take us to the brand new speedway track at Stoke. Well not Stoke exactly, but Chesterton near Newcastle-under-Lyme. There had been speedway at Sun Street, Hanley in the early sixties, and this was an attempt to draw a crowd from the Potteries region. The Speedway Control Board wouldn't let them run as Stoke on the grounds that they weren't actually in Stoke-on-Trent, so the team ran as Chesterton until the rule was relaxed for the following season.
The track at Loomer Road was a curious affair. Set on the edge of an open cast coalmining site, it seemed that when the initial ground work was done the track was going to be a lot longer. The concrete terracing along the home straight continued long past where the track turned left, and the earth banking on the bend was miles away from the track. It's still like that now as the track celebrates its fortieth anniversary.
The match we had gone to see was a Grand Challenge match against Crewe Kings. Clearly relations between the Stoke and Crewe promotions had thawed as initially there had been a lot of opposition from Crewe at the prospect of another track opening so close to their Cheshire base. As history would prove Stoke would have the longevity, and Crewe speedway would close at the end of 1975. As a sign of the times we watched the match leaning on the safety fence, holding up our programme boards to shield our faces from flying shale as the riders hurtled past.
For the next home cup match against Sheffield, Belle Vue had replaced the photograph of Ivan Mauger on the cover of the programme with one of Chris Pusey, characteristically depicted with the cuffs of his leathers unbuttoned and folded back. If Chris could have raced with his sleeves rolled up he probably would. He celebrated this new honour by scoring a maximum.
It was now mid-May and Belle Vue were sitting comfortably in third place in the British League Division One with six matches in hand over leaders Leicester. Such was the inconsistency of British speedway fixture planning that Leicester by this stage had raced in thirteen matches, yet Poole had completed two. Belle Vue were keen to promote their new Bavarian Beer Hall (not Bier Halle) and the next stock car meeting was to be the German Beer Festival and Fair Trophy, popular side standing 32p.
Players cigarettes were regular sponsors at Belle Vue in those days with their No.10 brand to the fore. The Hyde Road round of the Northern Riders' Championship sponsored by Players No.10 gave Alan Wilkinson a chance to shine, only losing out to Jim McMillan, now of Coatbridge after the Tigers had moved from Glasgow, in a run-off.
There was no Barry Briggs in the Swindon side that came to Belle Vue in June. After his Wembley crash, and the amputation of his finger, Briggo had decided to retire. He'd announced it during an interview with Dickie Davies on World of Sport, such was the high profile of speedway at that time. Peter Collins was struggling a bit and failed to score, retiring from his last two rides. In fact points were proving hard to come by for PC who had struggled in his first two WCQRs, only rescuing his chances with a maximum at Wimbledon, which even got a mention in the Daily Express. Surprise top scorer for the Aces against Swindon was Chorlton butcher's son Paul Tyrer, who got a paid maximum from reserve.
When Belle Vue raced Ipswich on 16th June Chris Pusey racked up another maximum, putting fellow England star and previous year's World Final surprise fourth place finisher John Louis in the shade. Pusey was looking imperious, and riding maturely, and fulfilling the potential shown in that World Championship Qualifying Round victory three years previously. Unfortunately by the time the Aces were due to race at Halifax on the following Saturday, Chris Pusey's season would be over. Riding for England in a test match in Poland he had crashed, breaking his arm so badly he wouldn't ride again until the following year.
In a further blow team manager Dent Oliver had suffered a heart attack and would be absent for the rest of the season. Never seen without a cigarette in his hand, Dent Oliver was responsible for the Belle Vue Monday night training schools that had produced a constant stream of talent, talent which had given him the confidence that he could track a team of riders good enough to win without Ivan Mauger.
Before Dent Oliver and Ivan Mauger Belle Vue speedway had been in the doldrums. The sixties had been most unproductive for the team, but the signing of Mauger in 1969 and emerging young talent had turned them into champions. Chris Pusey, Alan Wilkinson, Peter Collins, Paul Tyrer, Eric Broadbelt, Chris Morton and other less well remembered names like Steve Waplington and Chris Bailey were all products to a greater or lesser extent of that Monday night school run by Dent Oliver.
Without Chris Pusey and Dent Oliver we watched a limp performance by the Aces at the Shay as Belle Vue lost 44-34 to Halifax, with only Soren Sjosten managing any heat wins.
An exciting addition to the 1973 sporting calendar was the Daily Mirror International Speedway tournament. This was to be an international league with matches held at tracks up and down the country and a final to be held at Wembley later in the summer. Belle Vue were to host the match between England and the combined Norway/Denmark team led by Ole Olsen as the only Dane in the side. Better strength in depth allowed England to overcome the Viking invaders relatively easily for a score of 48-30.
A week and a half later we were back at Hyde Road for the semi-final where England dispatched New Zealand by the same 48-30 score. Ronnie Moore and Barry Briggs both came out of retirement to represent their country for this competition. Showing that the rest had done them both good Briggs took two heat wins and Moore one. A sign of the changed speedway world is the fact that New Zealand could name a line-up including World Champions Mauger, Briggs and Moore plus experienced riders Graham Stapleton, Bill Andrew, Gary Peterson and Dave Gifford, whereas the only rider to represent Denmark was Ole Olsen.
The final at Wembley the following Saturday night would be between England and Sweden, and even better than that ITV would be showing highlights of the match later that night. That summer ITV had truly fallen in love with speedway showing highlights of some of the international tournament matches, including the first between England and Sweden from Sheffield. Star of the match was eighteen year old Peter Collins where much play was made of his ability to come from the back by shifting his weight on the bike to find extra grip, virtually sitting on his rear mudguard. Commentator Dave Lanning, who was also was promoter at Eastbourne and wrote for the TV Times magazine, leant an enthusiastic flavour to events and his colourful commentary style played fast and loose with the English language. The final would give him plenty of opportunity to display his verbal dexterity.
After the normal league match format of thirteen heats the two teams were tied on thirty-nine points apiece. It was decided there should be a run-off. Sweden nominated Anders Michanek who that season was on stellar form and would finish top of the British League averages. He had taken eleven points from his four rides. England manager Len Silver nominated Peter Collins who, although a surprise choice for many, had already beaten Michanek during the programmed races. Collins made the gate and going into the first bend on the second lap the riders were very close together. Collins fell. Michanek was adjudged to have been the cause, and was excluded. Much drama unfolded as riders and management teams spilled out onto the track. Despite pleading to the referee the exclusion stood, the race was awarded to Collins, and England were victors in the Daily Mirror International Speedway Tournament. That Saturday night of TV from Wembley would make Peter Collins a household name and seal ITV's commitment to the sport for years to come.
No doubt fuelled by the excitement of his first big night at the Empire Stadium Peter Collins came home to Belle Vue and scored a fifteen point maximum, helping the Aces put Halifax out of the Knock-Out Cup.
The first sign the 1973 league season was not going to go the way of the Belle Vue Aces was when they were beaten at home by Sheffield at the end of July. Much of the season would be run using rider replacement for the injured Chris Pusey, and it seemed more and more that the burden of responsibility was being born by Soren Sjosten and Peter Collins with not enough support from rest of the team. Sheffield were a solid dependable sort of side with no real stars, and to lose to them was very disappointing.
There wasn't much time to reflect on this disappointment as two days later we would be deep in enemy territory. Monday had us heading down to Mevagissy in Cornwall for our annual camping holiday. Cheshire to Cornwall is a stinker of a long journey, so why not break it up with a relaxing stopover in Devon and a night out at Exeter speedway? Which is exactly what we did. Exeter were holding their annual big individual meeting, the Westernapolis. Riders from all over the south and midlands were invited, but none from Reading or Belle Vue as they were racing in a league match at Tilehurst the same night. It never occurred to me to suggest we might stop over in Reading, but perhaps it didn't really count as "on the way" to Cornwall.
Exeter fans had clearly taken their new hero Ivan Mauger to their hearts, and cheered him to the rafters as he took the Westernapolis trophy with a maximum. We "sat" in the main stand, which turned out to be a pointless expense as Exeter fans all stood up during the races. Why I have no idea as you had a much better view sitting down. We grudgingly allowed them to have their victory for Ivan knowing full well they only had him by default.
Cornwall didn't have a speedway track anymore by 1973, but it had an ex-speedway track at St. Austell, and a speedway personality running it. New Zealander Trevor Redmond had ridden for a number of teams, most notably Wembley in the 1950s, and had relaunched league speedway at the Empire Stadium for a brief two-year period in 1970. He now ran Formula Two stockcars, bangers and hot rods at St. Austell on an asphalt track laid over the old shale one. Entertaining stuff it was too, and we went three times in fortnight. It was nearly cancelled one night because it had rained. Nearly off because it had rained? On an asphalt track? What a bunch of softies stockcar drivers were. Fortunately it dried out enough for pensioner Wilf Blundell, on his holidays from the Isle of Man, to beat all the local hot-shots in the Formula Two stockcar race.
The impression you got from Trevor Redmond was that he wasn't entirely delighted by this. It wasn't hard to know what Trevor Redmond was thinking because he seemed to spend half the evening on the centre-green microphone telling you. I'd always wondered why whenever you saw a photo of him there was a microphone on front of his face. Now I understood why.
St. Austell might not have had an active speedway track but it had a television shop. Our holiday had coincided with the British Final at Coventry, but we couldn't find out the result. Whatever papers had the result we'd missed out on buying, but we'd found out what time the highlights were going to be on World of Sport. As we stood outside the TV shop in the rain my Dad cheekily asked the telly shop man if he could put ITV on. He duly obliged and went back to reading his paper, only coming out at one point to see why a little crowd had gathered. One person standing looking at something doesn't attract much attention, but if four people are standing looking at something there must be something to stand looking at. Within a short space of time there were about fifteen people watching the British Final from Coventry through a TV shop window on a rainy Saturday lunchtime, all witnessing the bizarre sight of Eric Boocock parking his bike across the starting gate in protest at being excluded for breaking the tapes.
Normal service was resumed with the annual home drubbings of Oxford and Newport. It seemed that Norman Strachan had retired by now so wasn't there to collect his habitual egg.
In those pre-internet times it was hard to get news from abroad. Radio Two was good for speedway results after the ten o'clock news, and it was to Radio Two we tuned for news of the World Final from Poland.
Three years previously skill and cunning had been enough for Ivan Mauger to beat those crafty poles in Wroclaw. This time he needed a bit of luck and sympathetic referee, but found neither. Having sought permission to have the radio on during Sunday dinner we heard Reading promoter Reg Fearman report that Poland's Jerzy Szczakiel had beaten Ivan in a run-off for the title. Ivan had fallen off trying to come from the back and had lain on the track as his rival continued to race, showering him with grit on every pass as he was given medical attention.
I rushed to get my World Final Preview edition of Speedway Star & News to show the family just who Jerzy Szczakiel was. The speedway world was stunned. A nobody had won the World Championship. If anyone was going to win for Poland it should have been their new golden boy Zenon Plech. The Polish authorities were embarrassed we read later. Just as with Ivan Mauger's black Wembley leathers, the speedway press overlooked history and forgot that Jerzy Szczakiel was already a World Champion, having won the World Best Pairs with Andrezj Wyglenda at Rybnik two years earlier. Peter Collins making his World Final debut scored a very creditable six points.
At the time I thought Ivan Mauger was acting it up a bit and lying on the track hoping to get a rerun. Maybe he really was injured as he wasn't down in the programme for Exeter's match at Belle Vue a couple of weeks later. It wouldn't have mattered anyway because it was rained off. Two weeks later they had another go and this time his name was included. Still it didn't make any difference as scheduled to be the second half of a double header against Cradley it was rained off again. The final heat of the Cradley match had to be the slowest race time I ever recorded being completed in ninety-five and two-fifths seconds as the heavens opened.
Before all this though there had been more ITV Wembley drama. The World Team Cup final was to be televised shortly after the live event had finished on the Saturday night. Dave Lanning was there once more to describe a great night for British speedway. Or was that English speedway? In the World Team Cup traditionally the Great Britain team was made up any rider whose country had a Union Jack on its flag, so in recent years New Zealanders Ivan Mauger and Barry Briggs had been the mainstays, with riders like Australian Jim Airey helping them win the 1971 WTC. The only true Brit in the side that year was Englishman Ray Wilson who had scored a maximum.
The success of the England team in the Daily Mirror International Tournament led the selection panel of the British Speedway Promoters Association to have the confidence to pick a genuinely all-British (in fact all-English) Great Britain team. Mauger was outraged, and felt snubbed despite all the work he and Briggs had put in to representing Great Britain over the years. Without them bulking out the side then no one would have prevented Sweden dominating year after year. And now they weren't needed he was being tossed aside.
TV star Peter Collins led Great Britain to victory taking maximum points, and once more beating Anders Michanek although this time staying on his bike. Jerzy Szczakiel scored zero points for Poland and was roundly booed every time he appeared, his crime being that he was unworthy of the title World Champion, at least in the eyes of the British speedway public.
Before the season was out there would be more Collins versus Michanek drama, and for those that witnessed it, the greatest speedway race ever to take place in the history of the sport. Weather was playing havoc with the fixture list. The Knock-Out Cup Final and the British League Riders' Championship were both rained off. Eventually the Cup Final second leg against Reading would be run two weeks late. Belle Vue had lost the first leg at Tilehurst by a convincing 31-47 and no one was particularly optimistic. Away form had been poor compared with previous seasons, although there'd been some thumpings of poor opposition on poor tracks at home. Reading were strong. They had won the British League Division One title, and their best rider Anders Michanek was top of the averages despite only ever taking one bike to matches (something he was often criticized for and had cost him badly in the World Final). Not helping Belle Vue's cause was the fact that Peter Collins was riding with a broken left wrist, and had transferred his clutch to the right side of his handlebars. He'd have to do something unheard of in speedway and operate both clutch and throttle with the same hand.
Belle Vue had drafted in Jim McMillan as guest. Often regarded as a Hyde Road specialist he'd already scored a maximum for Coatbridge in the league match that season. Reading didn't have everything going their way either, as Geoff Curtis was out injured, and they would have to use rider replacement with other team members taking his rides. Things didn't start well for the Aces as Michanek and Mick Bell took a 4-2 in the first heat to extend the Racers' lead. Gradually Belle Vue hauled in the deficit, taking three 5-1s in the last six races, plus a vital and dramatic 4-2 in the final heat as Soren Sjosten beat his fellow Swede Michanek.
The final result was that Belle Vue had beaten Reading 47-31 on the night, matching exactly the first leg score, and tying the two teams on the magic number 78-78. What to do now? Replay the match? It was already October 24th and the speedway season was due to end on the 31st. And where could the replay be? Reading's track at Tilehurst had been closed for redevelopment a few days before, and they'd already planned to sit out the 1974 season until their new stadium was ready. It was decided there would be a run-off to decide the 1973 Division One Knock-Out Cup Final. Each team would nominate a rider and the cup would be awarded on the outcome of this single race.
In a repeat of the run-off to decide the International Tournament there would be a race between Peter Collins and Anders Michanek. Despite the handicap of a broken wrist and trying to manipulate clutch and throttle with the same hand, PC had scored ten points, losing to Anders in heat one, but beating him in heat ten. What we didn't realize until now was that since suffering an engine failure in heat five, Anders Michanek had been sharing bikes with his team mates now his own was unserviceable. Once more his policy of only bringing one bike to a match was having repercussions. For the run-off he would have to use the bike of Reading number four Bernie Leigh.
Off the start the Swede was away quickest as Collins juggled clutch and throttle. Peter went into the first bend wide and deep, and cut back to the inside to pass Anders coming off the corner. As they came down towards us on the pits bend Collins again took a wide slow line into the corner and Michanek passed him on the inside. Once more Collins cut back inside and passed going onto the straight. On each bend of every lap this happened. Four times a lap for four laps they passed each other, sixteen overtaking moves in all, but crucially for us Peter Collins was ahead as they crossed the line for the final time. Belle Vue had won the Knock-Out Cup. Despite being battered and bruised , and demoted to sixth in the league, there was still something in the trophy cabinet. The recovering Chris Pusey was on hand to lift the Knock-Out Cup for his team.
The British League Riders Championship had been due to be run on the 20th October but the weather was foul. Strong winds and heavy rain lashed the area for hours, and there was no chance of running the meeting. This was a double shame as ITV had sent Dave Lanning and the cameras to Manchester to cover the action. Undeterred they filled the late evening slot with a season's highlights package, and they'd had a very good season of speedway to highlight. More Peter Collins on prime time television, and it was now much, much easier to find people to talk to about speedway.
This article was first published on 29th December 2013
---

Philip Dalling:

"A couple of responses to Ian Harwood's most enjoyable article on 1973. The answer to Ian's query as to why Exeter fans in the County Ground grandstand had to stand up during racing appears in Classic Speedway Venues Past & Present. The Falcons' landlords at the County Ground made major alterations to the front of the grandstand withoiut having the courtesy to inform the speedway management. Having previously stood to watch speedway at Exeter, I only discovered the problem when I went to a meeting with a family group which needed to sit down. Some chance! At the time the rugby authorities made the changes, it was estimated that nine out of every ten admissions at the County Ground were for speedway. Whilst speedway pulled the crowds rugby union, in the days before it became professional and trendy, attracted two men and a dog. Classic Speedway Venues also covers Loomer Road, with a picture of the extended terracing Ian mentions in his article."
Doug Nicolson:

"You had to stand in the County Ground main stand, otherwise you couldn't see parts Of the home straight nor the first and fourth bends. It was built by the rugby club and afforded a fine view of the pitch! After our first visit, we always settled for the back straight terracing."
Tracy Holmes:

"Another fun and entertaining read Ian! Hope you dont mind the following; It was the British/Nordic Final at Coventry where Eric Boocock did his startline demonstration. The British Final had been held at Sheffield. And re Ivan Mauger at the World Final. You put "This time he needed a bit of luck and a sympathetic referee, he found neither." uummm actually mate, he got both. His luck came as the same for most of his opponents, Ole Olsen was riding severely handicapped by injury. A fully fit Ole could have taken that Title unbeaten. We all know that. Also, Anders Michanek had a bad day at the office. His other chunk of good luck came when he broke the tapes and got away with it. It was heat 11, the tapes were broken 4 times, twice by Grigory Chlinovski, once by Edward Jancarz and once by Ivan. They all found the referee very sympathetic indeed ! And ok, Jerzy Szczakiel himself had clearly broken the tapes in heat 8 and got away with it. But in the re-run, thrashed Ivan by 8 lengths ! See it for yourself on You-tube. And the Gold Medal run-off ? Ivan was outsmarted, outgated, out manouvered, outridden and outclassed. He says so in his book. Yes, it was THE biggest upset in Speedw ay history but a nobody had won the World Final ? No way !!! Jerzy failed to score in the World League and The World Cup Final, true. But he raced the World Champion Ivan Mauger 4 times that year, and won all 4. Howzat ?!"
Ian Harwood:

"Just to counter Tracy Holmes's comments on Speedway Ruined My Toffee Apple 1973. The "nobody" comment regarding Jerzy Szczakiel comes from how the speedway press reacted at the time. As Richard Bott says in the Champions Book of Speedway No.5, "I doubt very much whether there was a speedway fanatic back in Britain who wouldn't have queried "Jerzy who?" when the name of the 1973 World Champion was flashed acros Europe." Even Richard Bott managed to overlook Jerzy's World Pairs victory when dismissing his other achievements, or lack of them."
Nick Hatton:

"Interesting to read about the Stoke track appearing that it was planned to be a lot longer, in fact the plan was that the track could double as a long track with the removal of the safety fence and the addition of an extra first corner on the first turn! "

[ Use Mobile Version ]

Comment on this Article | Contact Us | Go Back to Main Menu