DVD Review: John Louis Racing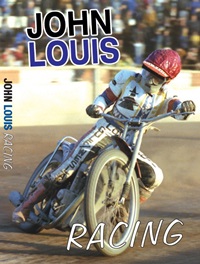 Following on from their recent success with John Louis' autobiography, the good folks at Retro Speedway have now released "John Louis Racing", a three hour DVD showing "Tiger Louis" in action.
John was very much an overnight sensation, starting his career in 1969 and reaching a World Final as early as 1972. That World Final is one of the first meetings shown on the DVD, only being preceded by film of John in action for the Rye House Red Devils.
He made further World Final appearances in 1974, 1975 and 1976 - all of which are featured here. Remarkably he finished in the top six in all of the finals he contested. His best finish coming at Wembley in 1975 when he beat Ivan Mauger in a run-off for third. We see the devastating start he made in that race, beating the legendary Mauger at his own game.
Although he never lifted the biggest prize of all, he was crowned British Champion at Coventry in 1975. He clinched the title by powering under Martin Ashby in dramatic style. It's fair to say that "Crashby" wasn't chuffed, judging by his refusal to shake hands after the race. It's possibly the best example on the DVD of just how good and determined a rider Louis was.
He also enjoyed success in the World Pairs competition. He teamed up with Malcolm Simmons in 1976 to win the event at Eskilstuna. It is slightly discombobulating to see the English pair take on Jimmy McMillan and George Hunter representing Scotland in one heat, a reminder that both nations once competed on the same terms at international level. The quality of the footage from this meeting is remarkably good considering its vintage and it's lovely to see the late Dave Lanning in vision during the introduction to the meeting.
That 1976 season was the last year in which John really made an impact on the international stage, though there was still much to come in his career.
Highlights on the DVD include:
John continuing to appear in big World Championship qualifying rounds at home and abroad.
An incredible tapes exclusion for John in the 1980 Spring Classic, he admittedly broke the tapes, but only after Michael Lee had virtually flattened them. John wasn't too happy and turned in an epic performance thereafter.
Test Match action against the USA in 1980 and 1984.
A valiant effort to reclaim the British Title in 1981 - including the run off with Stevie Bastable and Kenny Carter that decided the outcome.
John in action as a Halifax Duke after he unexpectedly moved on from Ipswich. We see him race for the Dukes at King's Lynn, Belle Vue and in the Northern Riders Championship at Hull.
Some rather farcical "16 Lapper" finals at Ipswich, one of which sadly sees John stretchered off the track.
John riding in the yellow and green of King's Lynn in 1983 and 1984. Indeed the rather sad thing about the DVD is that we see very little of him in Ipswich colours at all, his time as a Witch coming before the home video revolution.
The 1984 British Final that was raced in ridiculously wet conditions, leading to Louis taking a first bend tumble as he finds there's zero grip on the outside of the track.

This DVD is an excellent compilation of some of John's greatest performances and an ideal companion for his book. Retro Speedway have (as ever) put together a professionally edited production that makes the best possible use of the material available. If your Auntie gives you a few bob for Christmas then considering investing it in this.

Watch a trailer for the DVD

You can order this DVD from Retro-Speedway.com

This article was first published on 22nd December 2016

[ Use Mobile Version ]

Comment on this Article | Contact Us | Go Back to Main Menu