More on Middleton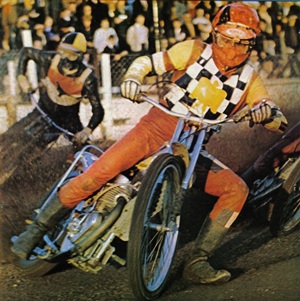 Garry Middleton
Tony Webb's brilliant article on Garry Middleton elicited a great response from our visitors, some of whom were eager to share their own memories of the mysterious Middleton.
Chris Holmes said:
Thanks to Tony for the article on Garry Middleton. Garry had an excellent season at Blackbird Road, scoring over 250 points in all competitions according to Alan Jones in his fine book "The Lions Roar". Garry wasn't on the fastest machinery in 1977 but his team riding stands out in the memory. It wasn't an easy skill on those long straights and wide, sweeping bends but I can see him now choosing the right line to protect himself and his team mate from being overtaken.
Matt Jackson said:
What a brilliant article about Garry Middleton. I saw him ride at the tail end of his career and always enjoyed watching him. A great read, thanks.
John Pharaoh said:
What an amazing article by Tony Webb on Garry Middleton: it certainly brought the memories flooding back for this erstwhile London teams supporter of the 1960's and '70's. I particularly remember an evening at West Ham, when Olle Nygren must have been most upset with Garry, because he knocked him off his bike as they were waiting outside the pits entrance for the 'pushers' to set them off on their way to the start!! (Olle COULD have been a 'Don', or a 'Hammer' at the time: sadly I can't remember which). I've tried to get Olle to provide more details, when emailing him some time ago, but was unable to elicit a reply. Perhaps (and hopefully) 'Cass' IS following this 'thread' surrounding him, and he will re-emerge, and reveal the definitive version of his life before, during and after Speedway. We could certainly do with some colourful characters like him in our sport right now.
Anonymous said:
There was one year, cannot remember date, when Gary looked as if he would make the world final but in an important heat of the British Final at West Ham he was going around two riders on the first bend who fell (possibly Maritin Ashby was one) and Gary laid down his bike perfectly. The fall seemed to shake him and he was last in the re-run and failed to qualify. Were it not for this many of us there were sure he would have been through to Wembley.
P.S. This was the year when Ronnie Moore and Nigel Boocock raced in a fantastic match race run-off for third place, wheel to wheel all the way on the wonderful Custom House Track with a packed house.
Graham Cooke said:
A fascinating read and a fine piece of research. Thank you so much!
David Cohen said:
Great article. I remember Gary Middleton very well. The one things that has stuck in my mind is that when he failed to qualify from the 72 British Final, he complained/moaned about the qualification system - I think this summed him up well. Bit of a nearly man, and rather sad that he appears to have disappeared without much trace.
Geoff Langley said:
Terrific article on Gary Middleton! I remember him well and often wondered what became of him. Although it is true he was a loner he did seem to look on Olle Nygren as a sort of father figure. I well remember him whinging to Olle in the pits after a meeting at West Ham that someone had nearly put him in the fence. Talk about pot and kettle ! But he was a character. Despite an ego that would have made Kenny Carter seem humble by comparison he was a genuine talent who was never really a dangerous rider even though he was very hard.
Rob P said:
I have read with interest this article on Garry, as he was my earliest memory in speedway. In the very first race I ever watched, he was the winner. It was at Cradley Heath and Hackney were the visitors, Garry in his light blue leathers finished first ahead of Bernt Persson and over the the following years I always looked out for him. It would be great to know what he is doing these days. Speedway is a wonderful sport and I feel lucky to have been regular supporter during the 70s and 80s. I look forward the reading the latest articles every week on here, Keep up the good work!
'Ste' said:
I was an Oxford fan for 30+ years and 'Cass' was my first hero! I remember the occasion he had a verbal 'battle' with the infamous Soldier Boy! His 'Day-Glo'orange helmet was his trade mark whilst a 'Rebel'. He also threatened to place air-horns on his handlebars to warn riders when he was about to pass! I recal Peter White some years back suggesting that he had commited suicide but he was trying to confirm the story. What a rider and great memories!
Tracy Holmes said:
What a brilliant read, thank you Tony!! I'm almost sorry to get technical but Garry and Geoff Curtis were 5th in the 1972 World Pairs Semi-Final. They did NOT qualify for the World Pairs Final. But Garry did win heat 15 at that Wimbledon meeting, beating Ronnie Moore and Ivan Mauger!! In 73/74, he rode for Mauger and Briggs in their Australasian series. I saw a few of these meetings in NZ and he looked very much at home alongside those two, Ronnie Moore, Ole Olsen, Plech, Jancarz, Autrey, Pusey, Harkins and others.
Just a personal view, Garry was never going to be World Champion. You can see in the article, he never got close to the World Final, proving that no matter how big your dream or your mouth, if your focus is all on self-promotion and antics for headlines, when it comes to reaching the summit of Everest, you will never get past base-camp.
Dave Shipstone said:
RE: British League Riders Championship at Belle Vue in 1972, Garry had too much power from his machine as he was on 15% nitro in his fuel. We derated this by adding more straight methanol plus increasing the valve clearance. I know this is true because I spannered for him that night. Payment was to accompany Garry to the riders dinner after the meeting.
This article was first published on 27th November 2008
[ Use Mobile Version ]
Comment on this Article | Contact Us | Go Back to Main Menu