Scottie Michie by Maciej Wegrzyn
Maciej got in touch after seeing Diane Michie's request on our Can You Help? page.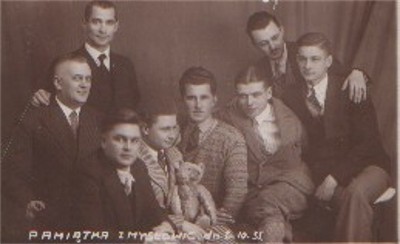 The picture shown (above) is taken in Myslowice (Silesia) in 1931. This was the first speedway track built on Poland.
Michie rode there on the 4th of October 1931. He was the biggest star and the first British rider to compete in Poland. He won one of the main scratch races.
The others riders in the picture are probably Leopold Killmeyer; Boehme from Austria; Sedan Graf; Schweinitz; Golishwing; Hentze from Germany and Raab from Czech - all these riders were international guests at the meeting in Myslowice.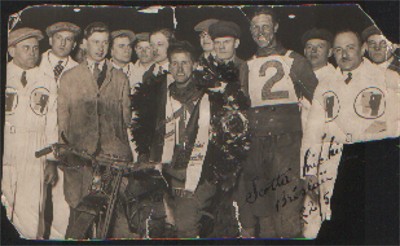 I know also that Michie raced in the Czech Republic as he was a factory rider for Jawa. He was also one of men who worked as a constructor for the Czech firm. In 1930 he won the Individual Czech Championship.
He also raced from time to time in Germany - I know that in 1930 or 1931 he won a meeting in Breslau (today called Wroclaw).
Scottie rode at Zlata Prilba in 1931 in Pardubice. He went there with his own Rudge but the motor broke down. The other rider - George Patchett, who rode for the Jawa factory, suggested that Scottie should switch to the Czech motor. Scottie agreed and rode very well but during training he forgot one thing - The Jawa motor had a hanger at the left hand side, which British speedway motors no longer had. At one bend he fell and ploughed the track with the hanger!
In 1932, after winning the Czech Championship, Scottie was nominated to represent the Czechs in the Dirt-Track Championships at Buffalo Stadium in Paris. Jack Parker was also riding in the meeting. He was introduced to all his rivals and Scottie was presented to him as an exotic rider from Central Europe called "Skotaniki". Jack smiled and said that he knew this 'Czech' rider very well and started to talk him in English! Turns out that Jack had ridden against him the previous week in Glasgow!
This article was first published on 16th September 2005
---

John Chaplin:

"I recall Jack Parker telling me a story about Scottie Michie. He said he was riding in Paris and noticed someone who looked familiar but who was riding under a French name. It was Scottie Michie."

[ Use Mobile Version ]

Comment on this Article | Contact Us | Go Back to Main Menu