The 2019 World Speedway Rankings
By Arnie Gibbons
What does one do when speedway has been cancelled for the foreseeable future and you can't go out. Well in my case it's an opportunity to have another look over the records for the 2019 speedway season. With time to spare I decided to produce a world ranking of riders for the year.
Over recent years various attempts have been made to produce an authoritative order, but the variety of competitions and race format make this quite tricky. How do you compare two riders like Marat Gatiyatov and Aaron Fox who have probably never raced each other? I make no claims for the accuracy of my efforts, but hopefully it will provide a few discussion points in the absence of any on track action to talk about.
I have taken 900 meetings involving nearly 700 riders, and weighted the points scored to produce an 'average'. As the largest league in the world, and in the mid-range of competitiveness, I have given the British Championship League a weighting of 1.00. The meetings analysed range from the Grand Prixs (weighted at 2.48) to the Finnish League and Italian Championship (0.4 weightings). It has to be acknowledged that there is a degree of subjectivity about these weightings.
There are few real surprises in the top 20, and the final outcome shows a close battle between the three riders who fought for the World Championship crown, with ultimate victor Bartosz Zmarzlik also coming out on top here too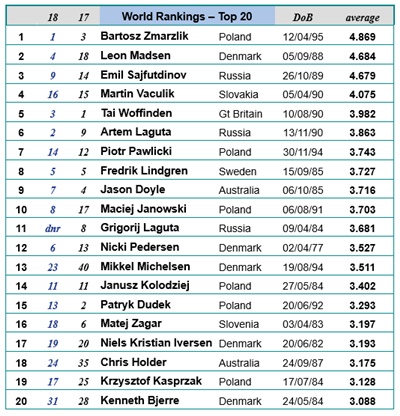 Piotr Pawlicki is the only non-GP rider in the top ten. Highest new entries are Grigory Laguta (returning from a ban) and the improving Michel Michelsen. Twelve of the top 20 were aged over 30 at the end of 2019, and only three (Zmarzlik, Piotr Pawlicki and Michelsen) were still under 26. Poles (six) and Danes (five) occupy the majority of places.
The next thirty positions provide a few more interesting placings.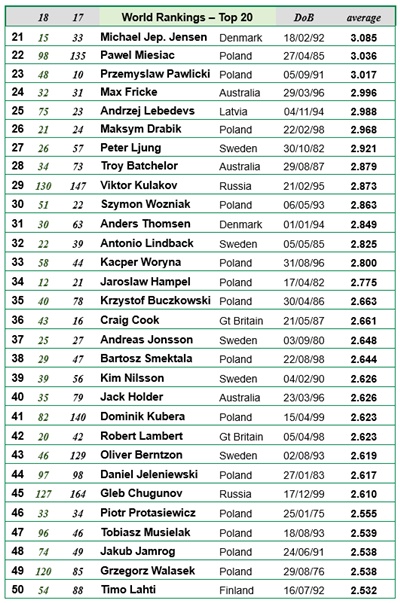 The placing of Pawal Miesiac at number 22 leaps out as unexpected. The 34 year old Lublin rider has been around for years and as recently as 2017 was a second-string in the Polish third tier. However he averaged over six (excluding bonus points) in the Extraliga last season, above Hampel, Lindback and Jack Holder among others. Unlike most riders he did not ride abroad in 2019, and as riders generally perform better in their home league this may have boosted his placing slightly.
Viktor Kulakov had a good season, finishing top of the Polish Nice League One averages (including bonus points) ahead of Lebedevs, Ljung and Batchelor.
Five under 21 riders make the top 50. The first three are all Poles, although Kubera only edged out Robert Lambert for third by 0.0009 points. Drabik and Smektala take the top two places; the fifth of the rising young stars is Russian Gleb Chugunov.
Poles occupy 14 more places in positions 21-50 including veterans Protasiewicz (age 44) and Walasek (age 43).
Only 9 British Premier League riders make the top fifty. Just missing out were Brady Kurtz, Nikolai Klindt and Rasmus Jensen.
Most notable omissions from the top 50 were Vaclav Milik (who had a poor season in Poland), Martin Smolinski (despite gaining a 2020 GP slot) and Jacob Thorssell (who had a rather mediocre year all round).
Notes
1. Rankings cover the period 1 November 2018 to 31 October 2019
2. 2018 positions were produced using a similar methodology; 2017 (and earlier years) come from external sources (with some minor adjustments). You will find information on these earlier rankings here: http://russpeedway.info/forum/showthread.php?t=2130
Part One - Part Two - Part Three - Part Four - Part Five
This article was first published on 19th April 2020
[ Use Mobile Version ]
---

David Pickles:

"Many thanks Arnie for your exhaustive work in producing the 2019 rankings. Reminds me of back in the day when Bryan Seery did the statistics in the Speedway Star. Very useful reading and full of surprises too."

Comment on this Article | Contact Us | Go Back to Main Menu