The 2019 World Speedway Rankings - And Finally
By Arnie Gibbons
To finish we will look at a few miscellaneous rankings thrown up by the process of compiling the rankings. Firstly we've already looked at the younger riders, in part two, so how about the oldest?
Veterans - Top Ranked Riders Over 40
The table shows the highest ranked riders who were over 40 at the end of 2019. Nicki Pedersen takes over the top spot, and Rune Holta is now the oldest rider in the world's top 100 following the withdrawal from active racing of Greg Hancock (born 2 June 1970) for family reasons. Older riders are to be found racing regularly, notably at Costa Mesa and Industry Hills in California where Bobby Schwartz, Shawn McConnell and Eddie Castro are still competing despite having passed their 60th birthdays.
Which Leagues Are the Strongest?
The ranking process required the allocation of a weighting of points scored in each competition. These were cross-checked once a preliminary ranking had been computed and weightings that appeared over-generous or too light adjusted accordingly. However an element of judgement remains in these weighting.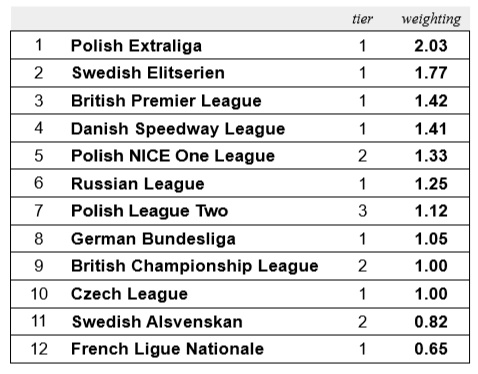 Who Was the Busiest Rider in 2019?
From the rankings list it was easy to extract a list in order of the riders who had taken most rides used in the ranking process. To this I added (using various sources) the rides that had not been taken into account during the ranking process. For the 20 busiest riders this showed that on average 86% of the races they competed in had been used in determining their rankings. The main sources of the remaining 14% were Polish training matches, British knock-out cup fixtures and assorted open meetings around the globe.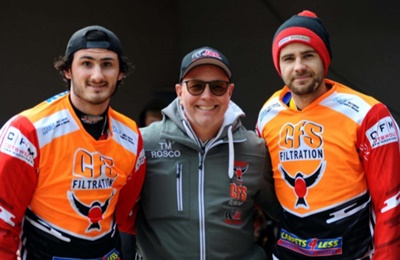 Two of speedway's busiest riders
the Swindon pair of Ellis Perks and Rasmus Jensen
Three nationalities dominate the chart: British, Danish and Australian riders. All of the top 16 were active in the British Premier League last year (and seven doubled up in the Championship) - so there is at least one area of speedway in which Britain is still the world leader. Busiest riders who did not compete in the British competitions were Patryk Dudek, Bartosz Zmarzlik and Michael Jepsen Jensen. Only one rider - Ellis Perks - made this list without being in the top 150 riders in the world, a feat achieved by virtue of riding in all three tiers of British speedway in 2019. He is also the third Swindon rider in this top five!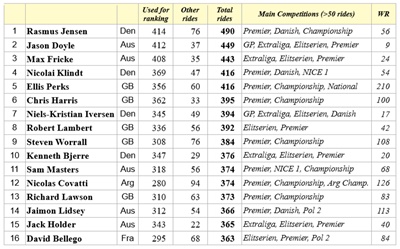 Note:
Sources are not 100% accurate, and I may have missed the odd match, and run-offs are not included. Therefore there is a modest margin of error in these figures.
Part One - Part Two - Part Three - Part Four - Part Five
This article was first published on 17th May 2020
[ Use Mobile Version ]
Comment on this Article | Contact Us | Go Back to Main Menu