The 2019 World Speedway Rankings - Under 21s
By Arnie Gibbons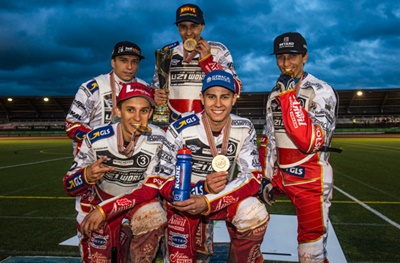 With the world's top 3 under 21 riders plus Viktor Lampart and Michael Gruchalski it is no surprise Poland retained the World Under 21 Team Championship at Belle Vue last year.
In the second part of my review of the world rankings that I have constructed for 2019 we look at riders under 21 at the end of 2019 (i.e. those eligible to compete in FIM junior events).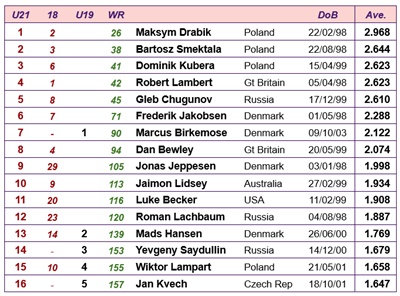 After Robert Lambert unexpectedly broke the Polish dominance in 2018 (despite only finishing third in the World under 21 championship that year) he had a disappointing 2019, allowing the Poles to reassert their pre-eminence at junior level.
Birkemose had a sensational debut season, scoring double figures in three of his four Danish Metal Speedway League matches and top scoring in the Danish Under-21 Championship Final (but finishing third after a disappointing Grand Final). And all of this before turning 16 in October.
Norick Blodorn was the other outstanding teenage debutant last season. The 2018 85cc Youth Gold Trophy winning German sits just outside the top twenty after some impressive results - and he doesn't even turn 16 until May 2020. Last September I was lucky enough to see him ride in Germany where he impressed me mightly, beating Kai Huckenbeck from the back.
Both riders' rankings probably benefited from riding in leagues that give easier rides to lower ordered riders but even if their figures are slightly inflated their results were still impressive.
While the Danes continue to flourish at under 21 level there is a marked lack of Swedish representation. Filip Hjelmland was the top ranked Swede (at 26); while 16 year old Philip Hellstrom-Bangs who had an encouraging 500cc debut season looks like their best prospect.
After Robert Lambert and Dan Bewley, Tom Brennan (at 28) is the best of the Brits. There is then a long gap to Nathan Greaves. British hopes may rest on younger riders such as Anders Rowe, Drew Kemp and Jordan Palin to make their mark in future years.
All but one of the top twelve were 20 or 21 by the end of last year. If we restrict ourselves to riders aged 19 or under then again the Danes do well, but the Poles are less prominent, suggesting that for the next few years they might not dominate at under 21 to the extent they have recently. Only Wiktor Lampart makes the top ten in the under 19 category. Jakub Miskowiak (nephew of former Ipswich favourite, and 2004 World Junior Champion, Robert) and Przem Liska are the other Poles most likely to follow on from the Drabik/Smektala/Kubera generation.
Notes:
1. Dates of Birth have been compiled from various sources, and for younger riders are not always 100% reliable (even riders own facebook pages sometimes subsequently turn out to be inaccurate). I find dates for Danish riders are particularly difficult to verify.
2. A separate points weighting (80% of that used for top five riders) is used for Polish under 21 reserve riders in their three leagues to reflect their protected status and easier rides.
Part One - Part Two - Part Three - Part Four - Part Five
This article was first published on 26th April 2020
[ Use Mobile Version ]
Comment on this Article | Contact Us | Go Back to Main Menu