The 2020 British Speedway Season - Month by Month Review - Part One
By Arnie Gibbons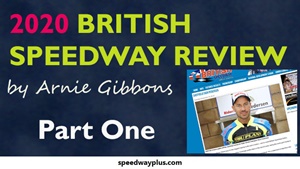 Thanks to Covid-19 we saw little speedway in 2020. It is unlikely that we will see an annual dedicated to the season's racing activity, but enough happened (mainly off-track) to warrant a review. Our story starts around the time of the BSPA AGM in November, which took place with participants unaware of the turmoil to follow, and set out the framework for 2020.
Late October 2019
Prior to the AGM the major news story concerned the question of which league Poole would be competing in in 2020. In mid-October Matt Ford disclosed that a recent survey of fans was positive towards a potential switch: "We will have to wait until the November AGM before we can definitely say that we will be in the Championship but that is our preference."
A few days after this (22 Oct) Sheffield announced their intention (subject to BSPA approval) to race in the Premiership. A return to the top tier, for the first time since 1996, would allow the club to switch back to Thursday race nights, and also made Poole's proposed move in the opposite direction seem more likely.
Not to be left out, Kent promoter Len Silver tweeted on 28 October that his club had applied to join the Championship.
Eurosport unveiled a 5-year deal with BSPA to screen British Speedway live in the UK.
Before October ended the first major signing for 2020 was announced - Birmingham's acquisition of Chris Harris to replace Adam Ellis (who signed for Rzeszow in Polish League 2 the following month).
November
Prior to the AGM team building begins behind the scenes, but public announcements are few. 16 year old prodigy Jordan Palin signs for Scunthorpe while veteran Scott Nicholls (41) says he will leave Leicester citing the difficulty in accommodating the Lions regular Saturday home fixtures around his TV work.
James Shanes receives a permanent wildcard for the 2020 World Longtrack Series. Zach Wajtknecht is named at second position in the series reserve list.
Prominent sponsor Colin North of Teng Tools is hit by a tractor in a fatal accident at a stock car meeting at former speedway venue Birmingham Wheels. (15 Nov)
The AGM (13-15 November)
The BSPA AGM duly confirms the move that saw Poole and Sheffield swap Premiership and Championship places. The Championship will expand from 11 to 12 teams with the expected addition of Kent. However the main talking points on the composition of the Championship concerned the failure of Plymouth's application (first made public in September) and the provisional status attached to Newcastle's continuing membership. Unable to confirm their participation the Diamonds were handed a period of grace to allow them time to resolve their problems.
Newcastle's issues appeared to have been resolved as the month ended with the announcement (27 Nov) that the Diamonds would race on in the Championship under the new ownership of former Diamonds rider Rob Grant Jnr. George English continues as co-promoter and team manager, and former Stoke chief Dave Tattum is also involved.
Other notable items in the BSPA statement include:
The Championship will operate a new-style league format in 2020 . Clubs will be split into North and South sections, and will race the other clubs from their section twice and home and twice away, whilst facing those from the opposite section once at home and once away. In addition, the play-offs for the second tier will feature the top six clubs.
Scunthorpe promoter Rob Godfrey takes over as Chairman, with Sheffield's Damien Bates now the Vice-Chairman. The other directors are Debbie Hancock (Somerset), Chris Louis (Ipswich) and Stewart Dickson (Leicester).
Premiership - race-nights: Monday and Thursday as before, points limit: 42.50
Championship - points limit: 41.00
The National League AGM will take place on 26 November.

The AGM concluded with the inaugural BSPA Awards Night. All of the 2019 title winners, featuring both team and individual triumphs, were honoured for their achievements. Additional awards were presented as follows:
Team Manager of the Year: Premiership - Alun Rossiter (Swindon); Championship - Stewart Dickson (Leicester); National League - Dave Howard/Dave Darcy (Leicester).
Rider of the Year (as calculated from referees' meeting reports): Premiership - Craig Cook (King's Lynn); Championship - Rasmus Jensen (Glasgow); National League - Max Clegg (Cradley).
Track of the Year: Premiership - Belle Vue; Championship - Scunthorpe; National League - Cradley.
Most Improved Club: Premiership - Ipswich; Championship - Redcar; National League - Isle of Wight.

November - Post AGM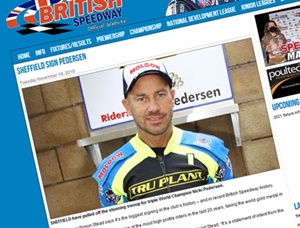 The following week sees a rush of signings. Most eye catching is Sheffield's capture of multi world champion Nicki Pedersen whose last British team was Peterborough in 2011. Kent have marked their elevation to the Championship with the signing of Scott Nicholls as No.1 and captain. Nicholls is replaced at Leicester by new number one Nick Morris, and in a bold move the Lions announce that both Thompson twins will occupy their reserve positions (even though not 16 until a month into the new season).
The week's most surprising announcement is that Kent have handed a Championship team place to veteran Rob Ledwith (48) who will ride in the second tier of British speedway for the first time since 1995 when his seven years at Arena-Essex came to an end.
Eastbourne and Scunthorpe become the first two teams to complete their 2020 line-ups. The Eagles will go on to have the distinction of naming the only all British line-up in the top two tiers, with only Drew Kemp a newcomer. Scunthorpe name a compact team with number 1 Josh Auty on a sub 7½ point average and reserve Simon Lambert over 5.
In Australia Dan Bewley finishes third in the FIM Oceania Championship at Gillman behind Jack Holder and Jaimon Lidsey. (23 Nov). Bewley's stay in Australia saw him win the South Australia Championship and the Jack Young Solo Cup. Fellow Brits Charles Wright, Kyle Bickley, Tom Brennan (returning from serious injury back in May), Leon Flint, Drew Kemp and Jason Edwards were all active down under in 2019-20.
The next batch of rider signings sees Poole's 2019 Aussie spearhead departing for pastures new - Jack Holder to Sheffield and Brady Kurtz to Belle Vue. Former GP winner Peter Kildemand also joins the Aces. Big news in the Championship is that Ricky Wells is moving to Glasgow after three years with their fiercest rivals Edinburgh.
National Development League clubs attended their AGM at Rugby on 26 November. The meeting was adjourned until 16 December when clubs should be in a position to finalise their declaration of intent to participate or otherwise. The one concrete development was that Cradley confirmed they will not be in league racing next season. Heathens director Chris Van Straaten commented in downbeat mood: "The search for a new piece of land, which started back in 1995, has been unsuccessful with little or no encouragement ... However, with no prospect of a new site going forward despite the best efforts of club officials and supporters, there is no future at this moment."
Part One - Part Two - Part Three - Part Four - Part Five - Part Six - Part Seven - Part Eight
This article was first published on 7th February 2021
[ Use Desktop Version ]
Comment on this Article | Contact Us | Go Back to Main Menu