The 2020 British Speedway Season - Month by Month Review - Part Two
By Arnie Gibbons
December saw the bulk of the team places for 2020 filled, with most of the remaining vacancies sorted out in January. With the fixture list released in late January fans begin thoughts begin to turn to the new season, largely oblivious to the first few news stories of a flu-like virus in China.
December
A Dragons Club amateur meeting on 1 December at Rye House turns out to be the last ever speedway action at the historic venue. Young Aussie Aaron Jackson wins the open class and Will Cairns, Ben Trigger and Max Perry all impress in the 125cc challenge.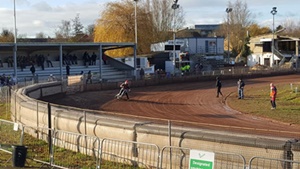 The last action at Rye House - note the
part demolished grandstand on the right
The first week of December sees team building continue at a pace. Edinburgh cause a few raised eyebrows by signing relative unknowns Australian Kye Thomson and Norwegian Lasse Fredriksen. After lifting his Kent NL average from 2.00 to 8.14 in 2019 Dan Gilkes is rewarded with a position in the Kings Championship team. Meanwhile the achievements of another Kent NL team member are recognised as Anders Rowe is given a Premier League place at Swindon, where he had previously served as the Robins' mascot. Poole's new look in their new league is given shape by the signing of former British Champion Danny King as their captain and No.1, joining previously announced Steve Worrall. By announcing Adam Ellis (returning) and Richard Lawson (a new addition) Swindon and Sheffield become the first teams in the senior league to complete their 2020 line-ups.
Ipswich win the SRBF Shield, presented to the track recording the largest Benefit Fund collection for the 2019 season, having raised a total of £2,332. Other notable results were Eastbourne (at £1,498, the top Championship track) and NL Kent whose £1,309 figure dwarfed that of Premier League King's Lynn (£504).
King's Lynn confirm the return of top British star Robert Lambert for the 2020 season. Somerset announce that they intend to complete their side with the signing of young Australian prospect Zach Cook. The deal awaits the issuing of a visa to Cook before being finalised. And the week's most unexpected news comes from Newcastle where Former Premier League Riders' Champion James Wright is making a comeback, having last ridden in 2015 (for Plymouth).
Team building in the top two tiers approaches the final stretch, with more than half of the tracks having completed their 2020 line-up. The notable exception is Peterborough who have yet to make a single team announcement, although this week's news did contain a story that Kzysztof Kasprzak had turned down an approach from the Panthers management. In the Championship only twelve spots remain unfilled - nine of these at laggards Redcar and Poole.
The previously adjourned third tier AGM reconvened on 16 December. The National Development League will come to the tapes with seven clubs in 2020. Gone are Cradley and Stoke, but in their place the Edinburgh based Armadale Devils enter the competition. Kent will retain their NL membership, in addition to now having their senior team in the Championship, along with rebuffed Plymouth. There are now just three stand alone clubs - Isle of Wight, Mildenhall, and Plymouth - who will compete in the National Trophy and the Knock-out Cup (which will see these three clubs plus holders Leicester in competition). In the Trophy each match will contain races (nominated by the team manager) with two riders going off a 15 metre handicap. (This somewhat bizarre proposal did not make it to the 2020 rulebook.) The points limit was set at 39.0.
BSI announce that the 2020 Monster Energy Speedway of Nations Final will take place at Belle Vue. The National Speedway Stadium in Manchester will host the culmination of the tournament on 8-9 May next year. (18 Dec)
The week before Christmas sees Newcastle complete their team with two foreigners on assessed averages - Ondrej Smetana (Czech Republic) and Nick Skorja (Slovenia). They come in over two points below the limit, no other team is even one point below. Much of the team building focus switched to the National League where Mildenhall kicked off proceedings by naming Ryan Kinsley as their No.1, and also announced the return of Luke Ruddick after a troubled year at Leicester. Belle Vue Colts announce their complete seven: five returnees (including Jordan Palin, Kyle Bickley, Connor Bailey), Paul Bowen (who missed all of 2019) and just the one newcomer - Harry McGurk from Cradley. On Christmas Eve Mildenhall complete their team with the injury plagued Sam Bebee set to resume his career.
January
The first round of the Australian Championship at Kurri Kurri (4 Jan) is abandoned due to poor track conditions, but not before Belle Vue and Berwick star Jye Etheridge suffers a broken collarbone leaving him in a race to be fit for the start of the British season.
The 'Young Lions' release a list of riders planning to participate in the 2020 British Youth Championship. 500cc class favourites are Sam Hagon & Archie Freeman. (7 Jan)
Sam Masters re-signs for Wolves to complete their team building. Only five places remain unfilled in the Premiership (two at Ipswich and three at Peterborough). In the Championship only Poole have an incomplete team. Pirates management indicate that they are looking at untried Aussies for the two remaining positions.
The BSPA approve a Premiership transfer window for the new season. Under the new rules signings will only be made after 25 per cent of Premiership fixtures and before 75 per cent are complete, except for proven long-term injury. (A term left undefined when the 2020 regulations are published). Only two team changes are permitted during this time. (14 Jan)
Newcastle have confirmed they will enter a side into the National Trophy competition this season - promising youngster Archie Freeman is the first signing. (16 Jan)
On 17/18 January two international representative matches take place between Australia and Great Britain in Perth, Western Australia. The Lions win both matches comfortably with Tai Woffinden unbeaten.
17 Jan
AUSTRALIA 39: Cameron Heeps 10, Kale Ballantyne 9+2, Jason Crump 9, Daniel Winchester 8+1, Fraser Bowes 2+2, Dakota Ballantyne 1.

GREAT BRITAIN 50: Tai Woffinden 14+1, Dan Bewley 10+1, Drew Kemp 9+2, Jason Edwards 9, Leon Flint 8+1, Jack Smith 0.

18 Jan
AUSTRALIA 36: Jason Crump 10, Cameron Heeps 9+1, Fraser Bowes 7+1, Dakota Ballantyne 7, Daniel Winchester 2+2, Kale Ballantyne 1.

GREAT BRITAIN 54: Tai Woffinden 15, Dan Bewley 12+1, Jack Smith 11+2, Drew Kemp 8+1, Leon Flint 5+2, Jason Edwards 3+2
The BSPA release the 2020 fixture list, highlights include:
the British Final at Belle Vue on Monday 22 June.
Glasgow's hosting of a GP Qualifying round (23 May)
the Championship Fours staging at Leicester on 19 July (the day after the Cardiff GP)
a season kick off on the weekend of the 14/15 March with the Benefit Fund Bonanza at Scunthorpe and a 50th Anniversary meeting at Peterborough
Leicester's start of their title defence on 22 April at Kent, 2-3 weeks after their rivals in order to accommodate the Thompson twins who turn 16 on that day
testimonials for Josh Auty and Todd Kurtz, a benefit for Neil Middleditch and farewell events for Stuart Robson and Rory Schlein#

A Speedway Star article considers the possibility of the return of speedway to former World Final venue Odsal. Following the departure of the Bradford Bulls Rugby League team the stadium is up for grabs. By the end of 2020 a return of stock cars in 2021 seemed close, leaving the possibility of speedway to follow in 2022.

Poole become last team in the Championship to complete their line-up naming Australian newcomers Zane Keleher (27) and Ben Cook (22). (30 Jan)

Following a competition involving local primary schools Kent's National League team in 2020 will be known as the Royals.

Part One - Part Two - Part Three - Part Four - Part Five - Part Six - Part Seven - Part Eight

This article was first published on 14th February 2021

[ Use Desktop Version ]

Comment on this Article | Contact Us | Go Back to Main Menu