The 2020 British Speedway Season - Month by Month Review - Part Eight
By Arnie Gibbons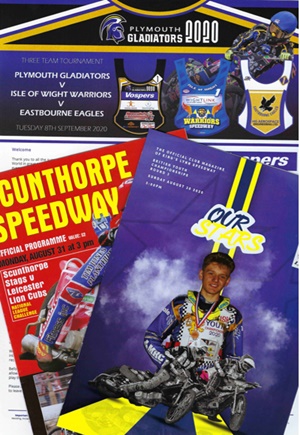 In the end just three tracks
managed to stage meetings
with paying spectators
And so 'the season that never was' staggers to a close with four more meetings behind closed doors, as national lockdown looms once more.
October
In Torun Tai Woffinden finishes runner-up in the Grand Prix series after a run-off with Freddie Lindgren. Meanwhile in Pardubice Dan Bewley is fourth in the World Under 21 Final after scoring 13 in the qualifying heats. (3 October)
Drew Kemp finishes a highly creditable fourth in Saturday's Czech Golden Ribbon at Pardubice. Kemp was eventually kept off the rostrum by Jakub Miskowiak, Mads Hansen and Jan Kvech, all of whom had raced in the previous day's World Under-21 Final. Back in Poland Tai Woffinden breaks a wrist, ruling him out of the Speedway of Nations. (4 October)
The fifth and final round of the British Youth Championship takes place at Belle Vue. Although tickets have been sold the meeting's status is changed to 'behind closed doors' just four days before the 10 October event, in response to climbing rates of covid in the Manchester area. In all three classes the round 5 victors also prove to be the series champions.

Britain finish a dismal sixth (just one point ahead of the Czech Republic) in a Speedway of Nations event farcically truncated due to rain, with Russia beating hosts Poland on countback. GB scorers are: Robert Lambert 6, Dan Bewley 6, Drew Kemp 0.
The last of the three individual domestic titles - the British Under 21 Championship - is staged at Berwick, pre-meeting rain and floodlight failure notwithstanding. Victory goes to Dan Bewley after he won heat 16 in which four unbeaten riders met, overtaking home favourite (and eventual runner-up) Leon Flint in the process. The appearance of the Thompson twins means that the brothers have appeared in all four British Championships this season: senior, under 21, under 19 and youth.
BRITISH UNDER-21 FINAL, Berwick, 21 October
Dan Bewley 15, Leon Flint 14, Anders Rowe 13, Drew Kemp 12, Tom Brennan 10, Jack Thomas 8, Dan Thompson 8. Joe Lawlor 8, Jason Edwards 6, Jordan Palin 6, Joe Thompson 5, Dan Gilkes 4, Jamie Halder 4, Tom Spencer 3, Harry McGurk (res) 3, Alex Spooner 1, Kyle Bickley 0, Mason Watson (res) 0.
The British speedway season, such as it was, draws to a close with the Peter Craven Memorial at Belle Vue. Jason Doyle wins a six rider final from Dan Bewley and Brady Kurtz.
PETER CRAVEN MEMORIAL, Belle Vue, 22 October

1. Jason Doyle 2. Dan Bewley 3. Brady Kurtz
4. Richard Lawson 5. Rory Schlein 6. Sam Masters
Qualifying scores: Jason Doyle 14, Sam Masters 12, Brady Kurtz 12, Dan Bewley 10, Lewis Kerr 10, Rory Schlein 9, Steve Worrall 8, Richard Lawson 7, Kyle Howarth 7, Jason Crump 6, Drew Kemp 6, Chris Harris 6, Jye Etheridge 6, Troy Batchelor 4, Richie Worrall 2, Jordan Palin 1
October closes with news that Newspeed 2003 Ltd the company behind Newcastle Diamonds are going into liquidation. It subsequently emerges that under the stewardship of its previous owners the promotion under declared VAT to the tune of £158 thousand. New owner Rob Grant intends to continue operating via a new trading vehicle.
The last speedway of the 2020 British season, an amateur pairs meeting on 31 October at the unlicensed Lydd track in Kent, is rained off after two heats.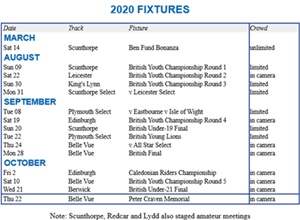 November
The close season commences with Poland announcing that Ekstraliga 2021 contracts will restrict riders to a maximum of one other league (two for riders in lower Polish leagues).
BSPA chairman Rob Godfrey kicks off the close season speculation with the confident assertion that every Championship club will be at the tapes next year, with teams looking to keep the same riders where possible. "I have a list of 16 riders who merit a place in the Championship in my opinion," he said. "If we lose any riders for whatever reason we should be giving riders from the list I have an opportunity."
A review of existing line-ups suggests the top names on this list are Nathan Greaves, Ben Morley, George Wood, a few more NL heat leaders plus potential returnees such as Zach Wajtknecht, Adam Roynon and Jake Knight. Meanwhile Chris Louis is "not aware of anyone having a problem with an Easter start, and we are very relieved and pleased about that."
9 November: Pfizer/BioNTech announce interim results of their vaccine trial. Preliminary results are exceedingly encouraging, leading to a surge of optimism across the world, and the prospect of a return to (something near) normality in 2021.
The Government-announce a £300 million 'sport winter survival package' to help spectator sports in England. The assistance, mainly via loan goes principally to rugby, football (non-league and the womens' game) and horse racing, although greyhound racing is also supported to the tune of £1 million. British speedway bosses have expressed their disappointment at missing out and have made contact with government officials to press their case. (19 November)
As November ends there is no sign of a date for the 2020 AGM or any concrete proposals for the 2021 season.
Notes on Sources
The principal source for the material contained in this series has been the media releases as published on the speedwaygb website, supplemented by additional information gleaned from Speedway Star and various social media. The Government covid website is the principal source of pandemic related information, with additional background from various national media outlets.
Part One - Part Two - Part Three - Part Four - Part Five - Part Six - Part Seven - Part Eight
This article was first published on 28th March 2021
[ Use Desktop Version ]
Comment on this Article | Contact Us | Go Back to Main Menu