The 2020 British Speedway Season - Month by Month Review - Part Six
By Arnie Gibbons
Finally we get to see some action, and there is the promise of more to follow.
August
Football authorities confirm that from mid-August 'small' crowds will be allowed at tier 7 (Southern, Isthmian and Northern Premier Leagues) and below.
Poole owner Matt Ford has calls for calm following the shock news that greyhound racing at Wimborne Road could be facing closure. The Pirates' landlords have stressed no definitive decision has been taken, but that they are entering into 'a process of consultation' with staff which could result in redundancies. Seven weeks later the permanent closure of greyhound racing is announced.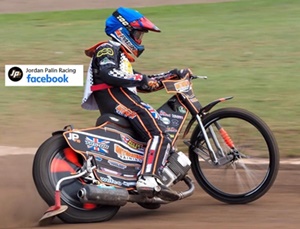 Action at last - Jordan Palin
comes out top at Scunthorpe
148 days after the Benefit Fund meeting at Scunthorpe Britain's second meeting of the season takes place, also at Scunthorpe. Attended by 441 spectators (with a crowd limit of 500) the British Youth Championship sees Jordan Palin go through the card in the 500cc class and Max James do likewise in the 250cc class. Will Cairns won the 125cc class after Max Perry suffered machine trouble. (9 August)
Leicester announce plans to stage the second round of the British Youth Championship on Saturday August 22. Due to local lockdown no spectators will be allowed at the event. (11 August)
On the same day the Swedish Elitserien gets underway: Robert Lambert (Lejonen), Dan Bewley (Rospiggarna), and Adam Ellis (Piraterna) are only Brits named in the teams. Lambert is the only regular (finishing second in the season's averages to Niels-Kristian Iversen), while the other two make only a handful of appearances.
On 15 August Belle Vue make known plans to hold the third round of the British Youth Championship on 27 August. The club are confident they will receive the go-ahead to run the event with supporters present. [A week later, after consultation with Manchester City Council, they announce that the meeting has been deferred until 10 October due to the local covid situation.]
Campaigners fighting to bring speedway back to Coventry reveal an offer has been made to buy and re-instate the iconic stadium. A statement reads: "The interested party is an extremely credible individual. He is the Managing Director of a well-established family business with an annual turnover in excess of £50m, and has a particular interest in motorsports." The mystery bidder is believed to be Nigel Harrhy (son of 70s Bees rider John). (20 August)
Adam Ellis, Britain's representative in the Grand Prix Challenge at Gorican crashes in his final ride, causing injury that prematurely terminates his season. (22 August)
Plymouth reveal plans to run a number of meetings on Tuesday evenings through September and October - following approval to commence speedway with paying crowds in line with Covid-19 restrictions.
British speedway makes what appears to be a major step forward with the BSPL statement on 26 August:
"We have received confirmation that a government 'test event' with spectators can go ahead. Representatives of the British Speedway Promoters Ltd have been in regular contact with the department for Digital, Culture, Media and Sport regarding this issue. We are heartened by this news and plans are being put together for a proposed 2020 British Final. We hope these plans can reach a successful conclusion for a late September event ."
Newcastle disclose plans to seek a new venue in order to protect the long-term future of the club. Owner Rob Grant has stressed that the Diamonds are still able to plan for next season at Brough Park, but says talks are ongoing as they look further ahead, especially in the wake of Covid-19. An existing stadium north of the city is rumoured to be under consideration.
A capacity crowd of 500 (the largest attendance of the post lockdown season) sees Leicester triumph 61-53 over hosts Scunthorpe in an NL level challenge match. Unlike the previous day's Youth Championship round at King's Lynn mask wearing is not mandatory. (31 August)
Photo credit: Ian Rispin (Scunny official photographer) - https://www.facebook.com/ian.rispin.50
Part One - Part Two - Part Three - Part Four - Part Five - Part Six - Part Seven - Part Eight
This article was first published on 14th March 2021
[ Use Desktop Version ]
Comment on this Article | Contact Us | Go Back to Main Menu