The 2020 British Speedway Season - Month by Month Review - Part Three
By Arnie Gibbons
February and March should have been taken up with pre-season preparations and the opening sorties of the 2020 season. Instead the speedway family had to come to terms with the devastating news that opened the month before adapting to an environment in which there was only one topic of discussion - the coronavirus.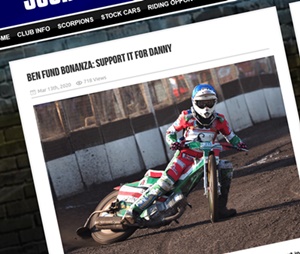 February
On Saturday 1 February crowd pleasing Ipswich and Scunthorpe rider Danny Ayres is found dead at his home. An inquest in July concluded Ayres took his own life after struggling with mental health issues.
Mildenhall quickly unveil proposals for a charity meeting in memory of Danny on Sunday 7 June. 'Danny's Day' will feature a Four Team Tournament involving the Fen Tigers, Kent, Ipswich and Scunthorpe, raising funds for his dependents.
The Speedway Control Bureau announce appointment of experienced track curators Terry Chrabaszcz and Andy Meredith as the Official SCB Track Curator Advisors after having a number of concerns regards track surfaces during the 2019 season, Their role will be to visit each track over the course of the season, to help and advise the regular track curator in track preparation, and to make sure that all clubs have the correct equipment in place. (4 Feb)
Armadale snap up Leon Flint and Nathan Greaves to spearhead the NL's newest team.
The European speedway season gets underway at Marmande with Chris Harris and Adam Ellis top scoring for their respective teams as Morizes beat Marmande 43-41 in the French League. (15 Feb)
Two signings complete the Ipswich team. The first is an Australian - but it is not Chris Holder, widely assumed to be the final name on the team sheet (subject to the resolution of his visa problems). Treble World Champion Jason Crump (44) plans a remarkable return to British racing. Crump retired from the sport at the end of the 2012 season and has not raced regularly in the UK for over a decade. The Witches also hand a reserve berth to club asset Drew Kemp, made vacant by Danny Ayres' sad passing. (18 Feb)
Scunthorpe will bring in former skipper Theo Pijper (40) as their replacement for Danny Ayres.
Danish superstar Niels-Kristian Iversen is on his way back to Peterborough as the club's No.1 rider, leaving a Panthers reserve spot as the only outstanding position unfilled in the sport's top two tiers.
New Zealand Champion Bradley Wilson-Dean withdraws from his team places with Peterborough and Somerset on medical advice. Wilson-Dean has had further shoulder surgery and has now been advised by his surgeon not to race for at least six months - meaning both of his clubs face a rider search. (21 Feb)
Premiership clubs are to revive an official top-flight Junior League this season. The move has been made in a bid to discover and develop local talent, and will involve full second-half racing at selected meetings. All seven clubs will field their own four-man team, who will race their opponents over six heats on a one-home, one-away basis after Premiership matches between the respective sides. Speculation that the BSPA is trying to kill off the second-half development leagues is fuelled by the statement which goes on to say:
"the BSPA would also like to clarify the position regarding the existing Development Leagues which operate on a regional basis as second halves at various Championship and National League tracks. Several teams have raced under the names of defunct clubs, and notice was given prior to the 2019 campaign that their future participation beyond last year would be based on the production of firm evidence that significant progress was being made towards establishing a venue to race back in their own area."
The annual 'Celebration of Speedway' takes place at Paradise Park, Broxbourne (23 Feb). Meanwhile in Italy coronavirus is taking hold and Italian Serie A football matches are ordered to be played behind closed doors. (24 Feb)
Daniel Bewley, Tom Brennan, Anders Rowe, Kyle Bickley, Drew Kemp and Leon Flint are seeded to the Redcar-staged British Under 21 final
Peterborough re-sign Scott Nicholls to replace long-term injury victim Bradley Wilson-Dean. The seven times British Champion came into the Panthers' side in mid-season last year, but this time around he is set to start the campaign at reserve.
March
The last two outstanding positions in the top two leagues are filled. Peterborough bring back club stalwart Ulrich Ostergaard to complete their Premiership line-up. 2020 will be his tenth season with the club, a relationship that dates back to his membership of the 2006 title winning team. Somerset sign rising American star Luke Becker after Bradley Wilson-Dean's withdrawal. Becker has obtained a revised visa and work permit enabling him to race in both senior UK leagues, and he now joins the Rebels along with his Premiership commitments for Wolverhampton. Meanwhile Birmingham have been forced into a late team change bringing in former Somerset man Valentin Grobauer after Tomas H Jonasson was ruled out of their plans due to fixture clashes with Valsarna, his Swedish team, on Wednesdays.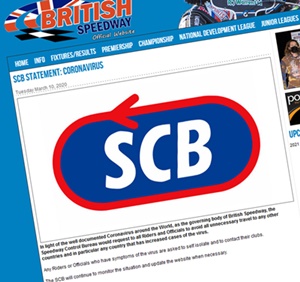 10 March: As coronavirus begins to take hold in the UK (460 cases and 8 deaths to date) the SCB issue a statement:
"In light of the well documented Coronavirus around the World, as the governing body of British Speedway, the Speedway Control Bureau would request to all Riders and Officials to avoid all unnecessary travel to any other countries and in particular any country that has increased cases of the virus. Any Riders or Officials who have symptoms of the virus are asked to self isolate and to contact their clubs. The SCB will continue to monitor the situation and update the website when necessary."
Meanwhile British BSPA Chairman Rob Godfrey insists it's business as usual as the sport prepares for a new domestic season starting at the weekend. Godfrey has moved to reassure fans that the Speedway Riders' Benevolent Fund meeting on Saturday at his Scunthorpe track will go ahead as scheduled, and insists that there are no plans to delay the British season due to the coronavirus scare. "As an association the BSPA will continue to follow government guidelines," he said. "But with no restrictions on sporting events in the UK there is no reason to panic and cancel speedway meetings. It's business as usual and I for one can't wait for the new season to start this weekend."
On 12 March Prime Minister Boris Johnson addressed the nation and urged 'business as normal'. The following morning saw the announcement that all league football was cancelled, public transport was deserted, pubs and restaurants were closing down; everywhere was moving towards a self-imposed lockdown. Across Europe the list of countries living under restrictions of some kind continued to grow. Tone deaf to the unfolding crisis the BSPA respond on 13 March with a statement:
"A new season of British Speedway will start as planned this weekend. The British Speedway Promoters' Association can confirm there are no plans to cancel, postpone or otherwise change the running of our fixtures at this moment in time.
"We are closely monitoring the situation and it is business as usual following the information broadcast by Prime Minister Boris Johnson on Thursday afternoon. As an association we will continue to work from the advice handed down by the government regarding the ongoing situation.
"We would urge all riders, staff and supporters to continue to adhere by the advice regarding frequent washing of hands in soap and water and avoiding contact with anyone who has a fever or cough. We also remind people of the government advice regarding even mild symptoms, if you feel this is the case please stay at home for seven days.
"In the meantime, we look forward to a successful staging of the Speedway Riders' Benevolent Fund meeting at Scunthorpe on Saturday and hope substantial funds are raised for this most worthwhile cause."
Despite most other sports (including six nations rugby) having already elected for suspension of activities and the advice of Ben Fund chairman Paul Ackroyd to cancel, the Ben Fund Bonanza meeting goes ahead on March 14. Danny King top scores in the heats and wins the final ahead of ex-Scunthorpe rider Steve Worrall and current Scorpion Josh Auty. James Wright's comeback begins positively with qualification for the semi final. The following day sees the staging of the British Amateur Championships, also at Scunthorpe, the winner of the bemusingly named 'pro' class is Jamie Halder.
BEN FUND BONANZA, Scunthorpe, 14 March
SCORES: Danny King 13, Lewis Kerr 12, Steve Worrall 12, Thomas Jorgensen 11, Josh Auty 11, Aaron Summers 9, James Wright 9, Kasper Andersen 7, Tero Aarnio 7, Ben Barker 7, Anders Rowe 6, James Sarjeant 5, Connor Mountain 4, Tom Bacon 4, Simon Lambert 3, Paul Starke 0, Jamie Halder (res) 0.
SEMI-FINAL: Auty, Jorgensen, Summers, Wright.
FINAL: King, Worrall, Auty, Kerr (ret).
On the Monday (16 Mar) the PM announced lockdown:
"So, first, we need to ask you to ensure that if you or anyone in your household has one of those two symptoms, then you should stay at home for fourteen days.
"So, second, now is the time for everyone to stop non-essential contact with others and to stop all unnecessary travel. We need people to start working from home where they possibly can. And you should avoid pubs, clubs, theatres and other such social venues.
"So third, in a few days' time - by this coming weekend - it will be necessary to go further and to ensure that those with the most serious health conditions are largely shielded from social contact for around 12 weeks.
"Lastly, it remains true as we have said in the last few weeks that risks of transmission of the disease at mass gatherings such as sporting events are relatively low. But obviously, logically as we advise against unnecessary social contact of all kinds, it is right that we should extend this advice to mass gatherings as well."
The BSPA (along with ACU and SCB representatives) met in Leicester the following morning and issued an emergency statement:
"British Speedway's new season has been suspended with immediate effect. The decision has been taken in line with other sports following the latest update from the government on the Coronavirus crisis. This suspension will be reviewed on April 15 and the situation will be monitored by the British Speedway Promoters' Association and Speedway Control Bureau on a daily basis between now and then."
The following week the FIM announced the postponement of the Speedway of Nations scheduled for Belle Vue on 8-9 May in light of the Covid-19 pandemic. In April a new date in October was announced.
On 25 March the BSPA issue an update to their previous statement:
"The board members of the British Speedway Promoters Ltd are continuing to monitor the situation regarding the Coronavirus crisis on a regular basis. With the latest information from the Government stating high risk groups of people should stay at home for 12 weeks, it is unlikely that that there will be any British Speedway events taking place before June 15, at least. The Board have to consider the public, their members, riders and officials, some of which will be included in the high risk group. It is the wish of the Board that every effort is made to start the new season at the first available opportunity and we have members of the association continuing to provide alternative fixture dates as the situation evolves."
Contemplating the worst case scenario - the cancellation of the 2020 season - Nikolai Klindt says:
"If we don't get back to racing this year there will be a lot of clubs and a lot of riders who won't be able to start come 2021. Also the clubs wouldn't be able to pay the money we are on now. It would be absolutely catastrophic for the whole of speedway." (Speedway Star w/e 28 March)
He also expressed fears about air travel between Britain and the rest of Europe becoming problematic.
The Welsh Government announce that the Principality Stadium, the national stadium of Wales, is to be used as a field hospital for up to 2,000 beds to help fight the coronavirus. (27 Mar). It opened on 13 April, and closed on the 8 June, remaining on standby until decommissioned in mid-September. Only once that was complete in late November were the Welsh RFU able to contemplate using the stadium again. Yet despite this BSI did not publicly announce the cancellation of the Cardiff GP until 1 June.
Part One - Part Two - Part Three - Part Four - Part Five - Part Six - Part Seven - Part Eight
This article was first published on 14th February 2021
[ Use Desktop Version ]
Comment on this Article | Contact Us | Go Back to Main Menu