The 2020 British Speedway Season - Month by Month Review - Part Seven
By Arnie Gibbons
High hopes for a feast late season speedway peter out as the season staggers towards anti-climax amid rising covid fears.
September
Seeded to the final Great Britain finish third in the World Under 21 Team Cup staged at Outrup (Denmark) on 5 September:
Poland 46, Denmark 42, Great Britain 32, Latvia 6.
British scorers are: Dan Bewley 17, Tom Brennan 7, Drew Kemp 5, Jordan Palin 2, Leon Flint 1.
Further dates for live action are announced:
under 21 and 19 championship finals at Berwick (17 October, later pushed back to 21 October) and Scunthorpe (21 September)
a return encounter between Leicester and Scunthorpe, planned for 13 September with a limited number of spectators in attendance
Edinburgh are added to the list of active venues for 2020, hosting a round of the British Youth Championship on 19 September behind closed doors
details of the Government test event are revealed - the British Final will be at Ipswich on 26 September, with 2200 tickets going on sale. The greater capacity under covid restrictions sees Foxhall get the nod over Belle Vue.
8 Sept - Action returns to Plymouth
in front of a sell-out crowd of 400
Tom Brennan snatches victory for Eastbourne in the final race of Plymouth's opening meeting, a three-team tournament between Plymouth, Eastbourne and the Isle of Wight in front of a capacity crowd of 400. The Plymouth promoters are widely praised for their efforts. (8 September)
To the puzzlement of many the BSPA announce that British speedway has become the official UK dealership for Anlas Tyres, the day after the tyre's homologation is withdrawn by the FIM!
Less than 48 hours after tickets for the Ipswich hosted British Final went on sale, the event is thrown into confusion following the government's drastic cut to just 1,000 spectators for pilot events - a response to a dramatic uptick in covid cases since the beginning of September. British Speedway Chairman Rob Godfrey said:
"I cannot praise Chris Louis at Ipswich enough for the mountains he has had to climb so far - and now there are more. We urge all supporters who are clearly desperate to see some live racing to remain patient as we work our way through this major reduction in spectator numbers. Ticket sales remain suspended until we can finalise plans for the event under the new government terms and conditions. We fully respect the need to keep the virus under control and, like other sports, we have to work within the limitations set down at government level."
With over 1,000 tickets already sold a decision is made to honour the first 1,000 tickets ordered, most of which were sold within 24 hours of bookings opening, with the remainder receiving refunds as soon as possible.
Just 48 hours before tapes up, Leicester are left with no alternative but to postpone Sunday's grassroots challenge match with Scunthorpe, as the local council rescind permission to run following a rise in coronavirus cases locally.
In the week commencing 14 September it is the British Final that makes the headlines:
British Speedway Promoters Ltd come to an arrangement with live streaming professionals Sport Central for a multi camera production with behind the scenes action and live commentary. Stream tickets and a a bumper 56-page souvenir issue are now available.
Organisers of the forthcoming British Final are working on catching up with ticket orders and refunds. Chris Louis said: "We need all people who ordered tickets, who haven't yet received either confirmation of their tickets or confirmation of a refund, to contact us immediately to speed the process up via email. There was never any thought of cancelling the meeting, unlike other pilot events, since last Wednesday's developments."
With some riders declaring themselves unavailable as a consequence of the pandemic triple World Champion Jason Crump will make his British Final debut on his new home track, Ipswich, after the Australian is handed a wildcard for the event.

Scunthorpe, 20 September: In a meeting full of memorable racing Drew Kemp secures a second British Under-19 title with a 15 point maximum after passing home favourite Jordan Palin in the final heat. Just over 400 attend.
BRITISH UNDER-19 CHAMPIONSHIP
Scunthorpe, 20 September
Drew Kemp 15, Dan Gilkes 14, Jordan Palin 10 (after run-off), Joe Thompson 10, Henry Atkins 10, Jordan Jenkins 9, Dan Thompson 9, Tom Brennan 8, Harry McGurk 7, Leon Flint 7, Elliot Kelly 6, Jason Edwards 6, Jake Mulford 3, Kean Dicken 3, Kyle Bickley 2, Mickie Simpson (res) 1, Archie Freeman 0.
A hectic Tuesday (22 Sept) sees:
The Government propose a further tightening of covid restrictions
The BSPA respond by announcing that British Final at Ipswich will go ahead - but will now be a solely behind closed doors event
BSI confirming that the FIM Speedway of Nations Final at Belle Vue in October has been called off and moved to mainland Europe (which is subsequently announced as Lublin in Poland)
What turns out to be the last meeting of the season in front of spectators takes place at Plymouth, Henry Atkins stars with a six ride maximum.

In response to these developments BSPA chairman Rob Godfrey gives a candid interview to the Press Association which resulted in him issuing a 'clarification'.
"It was me speaking from the heart, on a personal level and not that at a British Speedway Promoters Ltd level. The reporter caught me at a bad time, ...I regret some of the things I said,"
The central thrust of his comments:
"Yesterday's news really was a hammer blow, in the sense that it just cracked the skull. You've got to fear for our future - it's heart-breaking, real pit-of-the-stomach time. There's no strategy whatsoever in my opinion. You can't just keep kicking people in the b******s. We accept that we're a minority sport, we're down there already and they just keep kicking us. Speedway is the number one sport in Poland and they are letting people into stadiums. There's no reason why it can't happen here. One thousand people can go to Tesco's or go to the zoo, but they are not allowed to watch speedway."
Plymouth postpone the following Tuesday's home meeting against Leicester due to uncertainty over the revised Covid-19 restrictions. They subsequently give up on the remainder of their planned fixtures. Meanwhile in Manchester Belle Vue stage the first senior level meeting of the season in a streamed behind closed doors fixture. The Aces beat the All Stars with Dan Bewley and Rory Schlein topping the scorecharts for their respective teams. (24 September)
CHALLENGE, Belle Vue, 24 Setember
BELLE VUE 49: Dan Bewley 13+1, Brady Kurtz 10, Steve Worrall 9+1, Jordan Palin 6+3, Jason Crump 6+1, Jye Etheridge 3+2, Kyle Bickley 2.
ATPI ALL STARS 41: Rory Schlein 11+1, Lewis Kerr 9+2, Chris Harris 6, Danny King 5+1, Josh MacDonald 4, Richie Worrall 3+1, Leon Flint 3.
With heavy rain in Suffolk on the eve of the British Final a decision is made to switch Saturday's meeting to Belle Vue - on the Monday 28th.
Zach Wajtknecht and James Shanes qualify for 2021 World Longtrack series after finishing 4th & 7th in 2020 series following the second and final round, staged on a conventional speedway track - 395 metre Rzeszow in Poland. (27 September)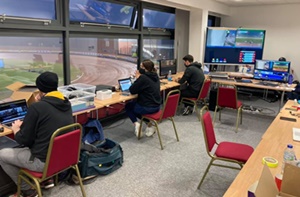 The SportCentral team hard at work
on their coverage of the British Final
Pic: Pete Ballinger
Rory Schlein is crowned British Champion at Belle Vue on Monday in challenging conditions caused by steady drizzle before and during the first half of the meeting. He defeats Richard Lawson, Jason Crump and Steve Worrall to win the Final. The Thompson twins make their British final debuts at just 16 years of age, replacing Kyle Bickley and Ed Kennett. Notable absentees are the Polish based trio of Tai Woffinden, Rob Lambert and Dan Bewley; Kyle Howarth and Adam Ellis (both injured); former champions Scott Nicholls and Craig Cook, along with reigning champion Charles Wright who all declined to participate. (28 September).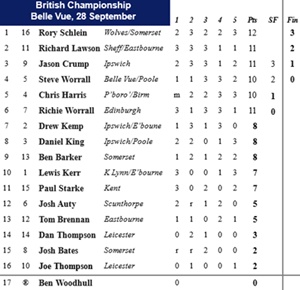 Part One - Part Two - Part Three - Part Four - Part Five - Part Six - Part Seven - Part Eight
This article was first published on 21st March 2021
[ Use Desktop Version ]
Comment on this Article | Contact Us | Go Back to Main Menu