The 2020 British Speedway Season - Month by Month Review - Part Four
By Arnie Gibbons
The next three months were principally about the long slow journey out of lockdown as the virus subsided, and the attempts to salvage something from the 2020 speedway season. By the end of June the worst appeared to be over, warnings of further waves of infection felt like scaremongering.
April
BSPA chairman Rob Godfrey reveals that they have asked the SCB for permission to extend the season beyond the normal 31 October deadline.
New Sheffield signing Nicki Pedersen (42) has tested positive for the coronavirus after suffering mild symptoms. The triple World Champion took a test at Kolding Hospital, which confirmed he had Covid-19. (1 Apr)
In a Speedway Star (w/e 11 April) interview Len Silver is downbeat about the prospects for speedway's return in 2020. He points out that 30-50% of his paying customers are pensioners, many of whom are likely to be cautious about crowds. He also observes that many teams will have problems with rider availability, complicating attempts to restart the league.
The local press in Manchester report:
"DROYLSDEN Man Charged With Burglary On His Own Street."
A Droylsden man has been charged following a burglary on his own street and a separate robbery in the town. 26-year-old Jason Garrity has been charged with one count of burglary and one count of robbery on 10th & 14th April." (20Apr)
Subsequently the Birmingham star is convicted, and jailed for 7 and half years in October.
21 April sees a further statement from the BSPA. It quotes Vice Chairman Damien Bates as saying:
"We remain 100% committed to putting on a season this year at the first available opportunity. There are absolutely no thoughts of cancelling the season. We all want to stage the season in whatever format that can take. We have people working on fixtures covering all eventualities in terms of dates and potential rider availability. ...If it's July, August or whenever it may be we are determined to stage racing should the government rules allow us to do so."
Rob Godfrey, chairman of the British Speedway Promoters Ltd, states that British Speedway is unlikely to resume behind closed doors - the financial impact of no fans makes meetings unviable. (27 Apr)
A few days later Godfrey reveals he has been lobbying for speedway's involvement in Government discussions about the restart of spectator sport. He said:
"My understanding was that discussions have already taken place with major sports and I felt it appropriate to put speedway up there. I just wanted to get the sport on the table, that's all, nothing more, nothing less. If ever there was a good time not to be a major sport, it is now. It's one aspect we are working on, of course, with sponsorship, TV and increased digital output but we are where we are. We are presenting the facts. Many of us can work with social distancing in our stadia, restricted numbers in parts of a venue won't be a problem and certainly the pits area can be tightened up in terms of numbers and space between personnel, but again this is very broadly speaking. Above and beyond this, we are an outside sport without any confined space." (30 Apr)
Polish Prime Minister Mateusz Morawiecki announces the return of elite sport, although initially it will be behind closed doors. If all goes to plan there will be a 12 June start date for the Polish Ekstraliga. (25 Apr)
May
British based Wroclaw team mates Tai Woffinden, Max Fricke and Dan Bewley fly out to Poland in a privately chartered jet for 14 days quarantine in advance of the start to the Polish season. (8 May)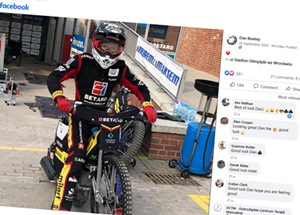 Dan Bewley - on his way to ride for
Sparta Wroclaw in Poland
The Government announces the first stages of easing lockdown, step 3 of which includes the opening of 'leisure facilities, public places, and places of worship', but not before 4 July at the earliest. (11 May)
21 May: In their latest update the BSPA re-iterate their intention to stage some form of league speedway in 2020. Commenting on the discussions Wolverhampton promoter Chris Van Straaten admits he expects the best-case scenario to be a late season schedule starting in August. Van Straaten is also amongst those advocating that in 2021 teams should be able to track the same seven riders that were announced prior to the planned 2020 start.
Gaming International announce cessation of greyhounds at Poole, unleashing speculation about the ability of Poole to operate in 2020 and also the track's long term future. (23 May)
June
Glasgow issue a statement confirming their decision not to enter any 2020 league competition as a consequence of the coronavirus pandemic. They cite several reasons:
stricter rules in Scotland
the difficulty of implementing social distancing in their Ashfield stadium
doubts over viability with low crowd limits
weather concerns if a substantial proportion the season runs in October
rider availability, with only two of their team presently in the UK
continuing uncertainty for riders, staff and fans should they await developments and try to run

Newcastle signing Ondrej Smetana is among those in action at Pardubice on 3 June when Europe sees its first speedway meeting since the 14 March Ben Fund Bonanza.

Following the first signs of restrictions being relaxed (on 1 June, schools and some shops were allowed to reopen), practice behind closed doors at Scunthorpe, Berwick and Leicester (5-7 June) sees another step towards normality. Meanwhile Leicester boss Stewart Dickson (speaking with a BSPA director hat on) outlines plans for a league season starting 10 August.

Oxford supporters are encouraged by the City Council's vote to approve their local plan. It continues to designate Cowley stadium as a leisure facility. The plan allows for 100 homes, likely to be flats, on the main stadium car park, but protects the stadium itself which has not staged speedway since 2007. Save Oxford Stadium (SOS) chairman Ian Sawyer said:
"This is a fantastic step forward for the campaign. It doesn't mean that we've won, but it does place another major obstacle in the way of anyone wanting to redevelop the stadium into housing." (12 June)
Meanwhile in Poland the Ekstraliga gets underway, with Tai Woffinden, Rob Lambert and Dan Bewley flying the British flag on the opening weekend.

There are further signs of progress towards business as usual in England when football's Premiership resumes after a three month hiatus, albeit behind closed doors. (17 June)

On 24 June the Government announces that from 4 July the reopening of pubs, restaurants and other areas of the hospitality and tourism industry. Outdoor leisure activities can resume, social distancing is reduced from 2 metres to 1 metre BUT crowds are still not allowed at professional sports. In response Leicester chief Stewart Dickson reiterates his hopes of getting the season to start soon. The club already have a plan in place to ensure meetings can go ahead in a safe environment with crowds spread across all corners of the Beaumont Park stadium. Dickson said:
"We are hopeful of getting a date. August is what I've had my money on."
Just six days later the UK's first full local lockdown is announced - in Leicester, with stricter measures imposed in the city.
Part One - Part Two - Part Three - Part Four - Part Five - Part Six - Part Seven - Part Eight
This article was first published on 28th February 2021
[ Use Desktop Version ]
Comment on this Article | Contact Us | Go Back to Main Menu