1974 - Speedway Ruined My Toffee Apple
By Ian Harwood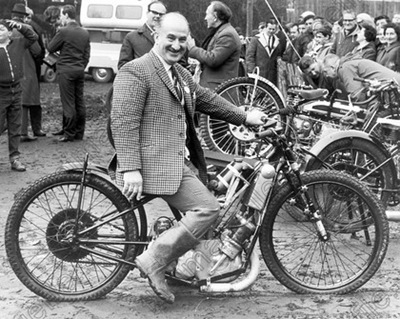 El Diablo Rojo
Previous chapters: 1970 ; 1971 ; 1972 ; 1973
Before the start of the 1974 season Dent Oliver passed away. This was a massive blow to Belle Vue and you felt a lot of enthusiasm ebb away. He had brought the glory days back to Hyde Road. I had only ever known the glory days. The passion I felt for speedway was in a major part down to Dent Oliver and the winning team he created, and the exciting young riders he helped to develop.
To fill the gap as team and speedway manager the Belle Vue directors brought in Frank Varey. A bigger character in the history of the sport it would be hard to find. Frank Varey had been scheduled to ride in the 1928 TT on a Scott when he heard about the new spectacle that was dirt-track racing. Despite being assured by his boss this new sport wouldn't last six-months Varey became a speedway rider at Belle Vue's then (as later) Kirkmanshulme Lane track. It wasn't long before he was a speedway star and after a winter tour to South America where he was dubbed El Diablo Rojo for the red sweater he wore over his leathers he would forever be remembered as the Red Devil. In more recent years Frank had been promoter at Sheffield and the Belle Vue offer had tempted him out of retirement.
Appropriately enough the season started with a match in the Frank Varey Northern Trophy as the Aces took on Halifax. Peter Collins rode to a maximum, and Graham Plant now riding for the Dukes topped scored for the opposition without punching anyone's chin. A new name in the scorecharts for Belle Vue was young Ian Hindle, distinctive both for his black and white halved leathers and for riding a J.A.P. motor when most riders by this time were Jawa mounted. Ten points from reserve helped the Aces to a 44-34 win.
The preceding winter had introduced me to a new sporting experience. A friend of Mum and Dad's worked at the BBC in Manchester and had got us tickets to A Question of Sport, not once but twice. As they recorded two episodes at each session we got to see them record four altogether.
This was in the days when the teams were captained by Cliff Morgan and Henry Cooper. As luck would have it one of the Sunday afternoon recordings coincidentally featured a suntanned and just back from Australia Peter Collins, and to my absolute delight former Formula One world champion Graham Hill. My Mum was amused to hear Peter Collins's mum saying afterwards that PC would be "in there getting Graham Hill's autograph". I was too shy to ask for either.
Unusually, before we were to see the Aces at home again we saw them twice away. Defeat at Wolverhampton in a challenge, despite the Wolves being without Ole Olsen and putting out a makeshift side, and losing at Sheffield in the Northern Trophy made for a stuttering start to the season. Peter Collins getting a maximum at Wolverhampton though hinted at the season he would enjoy.
Chris Pusey was back riding for the Aces but making a slow start and struggling for points. Peter Collins was week by week establishing himself as top Ace at the age of nineteen, and won the Player's No.10 Classic on Good Friday with a maximum.
In the sort of fixture scheduling you just wouldn't see these days Belle Vue had a home league match the following night to King's Lynn. Part of the reason was that once you'd paid admission to the speedway you could go into the amusement park afterwards without paying again, the management then expecting you to spend your money in the many bars and dance halls such as the newly renamed Bavarian Bier Halle. The Belle Vue directors now appeared confident that non-german speaking mancunians would understand this meant the same as beer hall. For those less interested in dancing and beer, new arrivals such as a 45lb baby polar bear, two new baby chimps and a baby orang-utan could be viewed at the adjoining zoo.
With the new season came new opportunities and we continued to see young riders develop. In the Good Friday meeting Paul Tyrer lost out to Ole Olsen in a run-off for second place, then on 1st June Aces reserve Chris Morton surprised everyone by taking the Peter Craven Memorial Trophy with a maximum, as his key opponents Peter Collins and Soren Sjosten obligingly fell to tapes exclusion and engine failure respectively when up against him. Getting the bumps was the traditional speedway reward for his first maximum and first big win.
It was good to see Chris Pusey finally get back to maximum ways as he and Peter Collins rode unbeaten to dispatch John Louis and Ipswich the following week by a score of 48-30. Further evidence of Peter Collins' development as a world-class rider was his absence for the challenge match against Sheffield to ride in a World Long Track semi-final in Germany. The weakened Aces line-up with the assistance of guest riders Peter Smith and Ulf Lovaas could only draw. It didn't really matter, but it was always disappointing not to win.
Away league wins were proving harder to come by this season but fortunately we were at the Shay to witness another PC maximum in the victory over Halifax by 31-47, with the home team only able to contribute three of the thirteen heat winners.
Drama in abundance arrived at Hyde Road on 6th July when Exeter came to town in a Knock-Out Cup second round match. The Aces had gone down 46-32 at the County Ground in the first leg, and with Ivan Mauger leading the Falcons it was going to be tough to turn it around. Craftily Exeter had decided that Ivan would race at number two in the team, giving him a relatively easy heat eight against Belle Vue's number two Alan Wilkinson and reserve Chris Morton (although I hesitate to call any race against Mort and Wilkie at any stage of their careers as relatively easy). The tactic seemed to be working as Ivan rode to three straight wins, and when it came to heat eleven where he was to meet Peter Collins Exeter lead 67-69. As Murray Walker once said you could cut the atmosphere with a cricket bat.
As Ivan tried to raise the tension even more by rolling his front wheel into the tapes in an effort to tempt either of the Belle Vue riders into dropping their clutch, the tapes pinged apart over his tyre. That wasn't in the script. Hoist with his own petard Ivan argued and argued, later claiming that because Belle Vue didn't have elastic tied to the cotton tape it didn't have the same give and broke more easily. It wasn't often the tension got to Ivan, and I don't think he was pleased by the reception he was getting from the Belle Vue fans. The tension certainly got to sixty-six year-old Frank Varey who ran across the centre green and tried to take a swing at Ivan, with only the intervention of track staff preventing further embarrassment.
When everyone had recovered their cool Falcons reserve Kevin Holden trailed in last as the Aces tied the scores at 71-71. Captain Chris Pusey was confidently expected to get the Aces noses in front in the next race, but he too came last as Scott Autrey and Tony Lomas restored Exeter's lead to two points. Such are the rules of speedway that a team six-points down after the fourth heat can field a tactical substitute. Although the aggregate scores were only two apart, the match score was Belle Vue 41 Exeter 29. Guess who? Frank Shuter's name was crossed out and Ivan Mauger's written alongside the white helmet colour. Against the Aces biggest of guns Collins and Sjosten, Ivan raced away to win and take Exeter through to the next round. Despite four seasons as a Belle Vue hero Ivan Mauger would never be seen the same way again by Aces fans.
The following Saturday night World Championship speedway came to Hyde Road. None of your qualifying round business, this was the real thing. The Sunday Mirror World Pairs Championship. The weather was good, a lovely dry sunny evening, and the England pairing of home star Peter Collins and the fast-gating Dave Jessup were the obvious favourites. Belle Vue were further represented by Sweden's Soren Sjosten alongside Anders Michanek, and returning stage villain Ivan Mauger was partnered by Barry Briggs, who had come out of retirement at the age of thirty-nine to resume league speedway at Wimbledon.
Throw in a sprinkling of Aussie, Czech, Russian and Polish opposition and wait for the foregone conclusion. Unfortunately the track preparation gods didn't see it the same way. Usually a bit bumpy and rutted due to sharing with stockcar racing the Belle Vue track had come in for special attention. A new coating of red shale had been laid, and all the bumps and ruts graded out. Add to that a warm summer's day that lifted most of the moisture out of the track and we had a beautiful surface with no grip.
After John Boulger and Phil Crump for Australia, and Edward Jancarz and Zenon Plech of Poland had given themselves five points starts, England were out against New Zealand - Jessup and Collins versus Mauger and Briggs. Dave Jessup's kind of track, not Peter Collins'.
Jessup leapt out of the start and was never headed. Mauger slotted into second, and despite trying all the lines he knew PC couldn't get round Mauger who knew all the same lines anyway. That would be Ivan's only defeat of the night, but with poor support from Briggs could only take New Zealand to third. Still that was one place better than the England pairing. Being on the wrong end of 5-1 defeats to Australia and Sweden were damaging. Taking advantage of all this was Sjosten and Michanek who steadily racked up 5-1 after 5-1, only being headed by Mauger in heat ten. Not for the last time that season Michanek would have a World Championship gold medal hung around his neck.
Disappointment would be short lived. I was fourteen and this was party season. Speedway matches conveniently ending shortly after nine meant plenty of time to get round to the house of whichever school friend was hosting the party that night. Cider and girls (not necessarily in that order) soon took my mind off defeat, even at World Championship level.
This was a busy old weekend. No time for underage hangovers as the following afternoon we were off to the Shay Ground in Halifax for a historically significant speedway match. It was the first ever testimonial meeting to be held for a speedway rider and was to mark Eric Boocock's tenth season as a Halifax Duke. Sadly his older brother Nigel couldn't ride due to injury, but a quality line up including Peter Collins, Ivan Mauger and new World Pairs champion Soren Sjosten proved what a hectic and busy lifestyle top riders have. Yorkshire lost to the Super Stars by 51-56 in an entertaining meeting on the banked Shay track with its unforgiving steel fence.
This hectic and busy lifestyle was almost matched by the young speedway fan as the following Wednesday there was a Northern Riders' Championship Qualifying Round to be watched at Belle Vue. Drawn at number one Peter Collins was, unusually for him, out in the first heat, and used the dirt on the inside line to race to a time only one-fifth of a second outside Ivan Mauger's track record, but more significantly to me matching the late Peter Craven's fastest ever time at Hyde Road.
Belle Vue were looking pretty strong in the league by the time it came round to our summer holiday. Unbeaten at home and even winning in the league at Wimbledon for the first time since the British League was founded. Summer holiday didn't mean a break from speedway, oh no. We'd been to France in 1971 and 1972, and Cornwall in 1973. There were no speedway tracks in France, and none in Cornwall. There were two in Dorset though, and Dorset is quite nice for holidays. Lo and behold there was what looked like a very good campsite halfway between Poole and Weymouth. Well how about that? A quick look at the speedway fixtures showed that in a two weeks-and-a-bit holiday we could take in three matches at Poole and three at Weymouth. Holiday in Dorset everybody? That's agreed then.
We even had a local(ish) team to follow on our first trip to Weymouth speedway as Crewe Kings were in town. Chris Morton's brother Dave was riding at number one for the Kings, and they ran the hometown Wizards close in a 41-37 match. We weren't particularly impressed with Weymouth's Radipole Lane home which resembled a building site with a speedway track in the middle. As a rule we were a little bit sniffy about second division speedway which we saw as being an entertaining diversion, but not the real deal. Looking back I appreciate the boys were trying just as hard and facing the same dangers as their colleagues in the higher division. You only have to look at the incredible sequence of Wright Wood photos in The Champions Book of Speedway No.2 pages 104 to 107 to see why as Ken Moss, Taffy Owen and Ken Vale pile up bikes and bodies against the Rochdale safety fence.
The following night we were off to Wimborne Road to see Poole take on King's Lynn in the Knock-Out Cup. There was a bit of Belle Vue interest to be had as ex-Ace Eric Broadbelt was now a Pirate. Seeing as Eric lived in Burnley he'd travelled even further than we had. This was a right old thriller with Malcolm Simmons leading a heat twelve 5-1 for King's Lynn to level the aggregate scores and take it to a last heat decider. Shared points in the final race meant it would have to go to a two-legged replay.
The following week's match at Poole was just as exciting and there was no doubt we wanted the home team to win. They were up against Exeter in the league. Nip and tuck all the way but it seemed to swing the Falcon's way when they fell six points behind and were able to use Mauger as a tactical substitute for Chris Julian and scored a 5-1. Two boys standing behind me displayed a slight lack of understanding of the scoring system as they tried to predict each heat result.
"I reckon this'll be a 4-3", one of them said.
Poole took the advantage back in the next race as the Pirates' Polish number six Antoni Woryna took his fourth straight win of the night. There was some controversy about Woryna's use as replacement for fellow reserve Martin Yeates in heat eleven. The bloke standing next to me said it was because you can't have a reserve scoring a maximum. I was beginning to wonder if anyone here knew the rules. He'd had his three programmed rides and this was his second reserve ride, so nothing wrong at all. It all came to nothing as he got excluded and they put Martin Yeates back in. Eric Broadbelt fell off and Exeter got a 5-1 to level the scores. Poole took a 4-2 in heat twelve to edge ahead going into the last race. All Ivan Mauger and Scott Autrey needed was a 5-1 to win the match for Exeter. And what do you think happened?
I was not happy. I was on holiday and that wasn't supposed to include seeing Exeter getting stuffy last heat wins. Rather poignant now on looking at the programme is seeing in the Exeter team the name of Kevin Holden who would lose his life at the same track a few years later.
I could take a deep breath and relax at Weymouth the following night as they were hosting a four team tournament made of two home teams against visitors Rye House and Eastbourne. The Eagles fielded Martin Yeates and Neil Middleditch who had both been riding for Poole the night before. They were too strong for the two home fours and the Rockets, and with the veteran Pete Jarman top scoring with eleven they took an easy win.
Weymouth reverted to their usual Tuesday night the following week and hosted another relatively local track to us in the shape of the Stoke Potters, who were now racing as Stoke rather than Chesterton. We weren't the only holiday makers in Dorset that July unsurprisingly. The family next to us was from Sheffield, and west country TV star Lawrie Quayle who was acting as announcer read out a succession of requests and dedications for fans from all corners of the United Kingdom. Unable to bear this anymore my mother sent up the cryptic note, "there are Belle Vue supporters here too", which to our amusement was read out word for word.
The final speedway meeting of the holiday was Poole's big individual meeting of the season. The previous year we'd seen Exeter's Westernapolis, now we were going to see the Poole Blue Riband.
They'd booked a cracking line up including Ivan Mauger, Ole Olsen, Ray Wilson, Dave Jessup, John Louis and our very own Peter Collins. We were confident of a PC victory. He was flying this season and could surely put away even the biggest stars of the sport on this summer evening. Wearing some horrendous blue, green and yellow leathers he fell off in the first heat. So that was that. Ole Olsen won with a maximum. At least Peter beat Ivan Mauger in heat eight, so there was some satisfaction.
I really don't know what was going on with the speedway calendar that season but as soon as we got home it was time for Belle Vue versus Exeter in the league. Track conditions must have been perfect as even the last heat was run in 71 seconds, very quick for Belle Vue. The Aces set about Exeter with a vengeance and Ivan Mauger was twice beaten by Peter Collins. The score of 46-32 wasn't that much different from the second leg of the cup match, but it felt a whole lot better because it resulted in a win this time.
On the 31st August 1974 we headed off again to Wembley this time to see the World Speedway Championship European Final, the final final before the World Final. The top eleven would go through to Gothenburg to meet the five qualifiers from the Swedish final. We'd booked late with only being back off holiday two weeks before. When we arrived in the stadium we very pleased to see we'd got seats right at the front, just at the exit of the first and second bends. My by now four and a half years experience of watching speedway should have sounded a warning bell on seeing the position of these seats. The front row at Wembley meant you were virtually at face level with the track. We got plastered, even more so when it started raining with a few races to go.
The man next to me was from Exeter (was there no escape?) and with his wife by his side he'd worn his best dark suit for the big night out. By heat twenty the green and white Ivan Mauger rosette he was wearing was barely visible. At this stage I didn't really care about the state of my face or clothes, or anyone else's for that matter. Peter Collins, despite wearing those awful yellow, blue and green leathers we'd seen at Poole had finished joint top with Mauger and Ole Olsen on thirteen points.
There would have to be a run-off. It was raining steadily by now. PC had already beaten the two of them in the heats, only losing points to Dave Jessup and latterly to Vladimir Gordeev when the conditions had already turned tricky. The run-off would be about who wanted it most, and it was clear when the tapes went up it was Peter. Making the gate he streaked away from Olsen and Mauger to take the biggest individual win of his short career. My Exeter friend was in tears.
"Your boy done good", he blubbed through a pancake layer of wet red shale.
Wembley was proving a happy hunting ground for us, and especially for Peter Collins when you took into account his exploits there the previous season. Considering the World Final was to be at Wembley the following season the omens were looking good.
A week later at Gothenburg Anders Michanek would ride to his first and only World Championship, taking victory with a maximum. Soren Sjosten took third after a run-off with Ivan Mauger who finished runner-up for the second successive year. Disappointingly Peter Collins only scored nine points, failing to win a single heat.
As usual the last big meeting of the season was to be the British League Rider's Championship. Barry Briggs was back representing Wimbledon but not one of the fancied runners. This was about the new blood. Phil Crump was emerging as a force and giving Newport some much needed scoring power. John Louis was now established as one of the top riders in the country and you wondered (or was that just me hoping?) if Ivan Mauger had finally had his day.
The line-up included Nigel Boocock of Coventry, now a veteran of twenty seasons, and his brother Eric of Halifax, who was to retire at the end of this season. Jim McMillan was back this time for Hull, and because Ole Olsen had been injured in the World Final George Hunter, who would go on to have one of the longest careers of any speedway rider, would be riding for Wolverhampton.
Peter Collins continued to ride the wave. Nineteen years old and capable of beating anybody and everybody he raced to a fifteen point maximum. The horrible yellow, green and blue leather put to one side in favour of some very smart ones covered in red, black and white triangles, the perfect colour scheme for the Belle Vue Aces number one.
Ivan Mauger beat Phil Crump in a run-off for second proving once more he could still be up there, but possibly his winning days were over.
The league season was drawing to a close with the unfortunate prospect of the title going to the Ivan Mauger inspired Exeter Falcons. Inspired is the word as Ivan was clearly having the same effect on Exeter as he'd had on Belle Vue , turning a stale underperforming outfit into winners.
Exeter didn't even have the production line of talent that Belle Vue had, but they had some solid experienced professional speedway riders that got the points when it mattered, as well as Scott Autrey, the first of the wave of Americans that were to inject so much life into British speedway in the 70s and 80s. The Aces would finish second. It felt like nowhere, but at least there was Peter Collins, and a Wembley World Final to look forward to in 1975.
This article was first published on 26th January 2014
---

John Marshall:

"Ian Harwood is to be congratulated on his "toffee apple" articles. What family sport speedway was in the 60s and 70s!"

[ Use Mobile Version ]

Comment on this Article | Contact Us | Go Back to Main Menu