Updated on 19th February 2005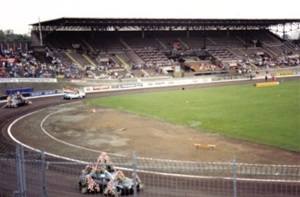 The 1987 World Final was famously staged over two days in Amsterdam. The stadium is shown in this set of pictures. Thanks to Graham Burrows once again for these.
Robin Couzins has submitted his 'Dream Team' and teams up Barney Kennett and Jason Crump as reserves in his eclectic selection. Read it here. Your 'Dream Teams' are always welcome, simply drop us an email with your selections and an explanation of why you've chosen each rider.
For those that missed our special mid-week update, see below, we've added A History of Long Eaton Speedway to the site.
Our regular correspondent from Canada Tom Marriott is looking for information on Canadian riders that made their way to the UK. Full details in the Can You Help? page.
There's a new forum dedicated to the Middlesbrough Bears. The Bears will be in regular action at Brough Park this season. Click here to visit the forum.
Former Berwick rider Ian Darling on An Interview with Dave Gifford:

"As a former team mate of Giffy at Berwick I have some happy memories sharing car journeys with him. Many a good laugh driving up the hard shoulder on motorways. Nice to hear he's getting on okay. He was always good for a story and always helpful with advice to younger riders.

p.s. Dick Barrie never brought me drink, all he ever did was cadge lifts off me."
Reggy on Dudley Wood:

"Such a sad sight, remember it well from many years back, can almost hear the bikes and smell the methanol just looking at the photos."

Updated on 16th February 2005 - LONG EATON STADIUM SALE CONFIRMED!

A few weeks ago we broke the news that a return of the Long Eaton Invaders was looking increasingly likely. We are now delighted to confirm that the relevant bits of paper have been signed and that the sale of the land into speedway friendly hands is complete!

A new stadium with seating for 2000 fans and standing accommodation for the same number will, subject to planning permission, be under construction shortly. The construction schedule is ten months and the hope is for everything to be ready in time for the 2006 season. The new track would conform to all FIM standards and be used solely for speedway. The track would be similar to the circuit at Coventry's Brandon Stadium. There would be no greyhound track so it would be possible to get up close to the action.

Yvonne Wright of Erewash Council, speaking to the Nottingham Evening Post, said "Under the local plan, if they provide a stadium on part of the land, there would be some flexibility as to what they did with the rest, but any proposals would go before the council. If they wanted a different use, they would have to give us an assessment of why the rest of the land would be surplus to the stadium or sport and leisure use requirements."

To mark this great news we've produced a new article entitled A History of Long Eaton Speedway.

Updated on 12th February 2005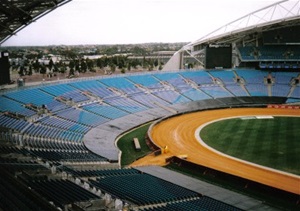 The incredible venue above was one of the best speedway stadiums in the world, albeit for one night only. That night was in October 2002 when Stadium Australia staged the first (and last?) Australian Grand Prix. Graham Burrows was lucky enough to be there with his camera.
Last week's article by Dave Green on the new Conference League gradings provoked some comment. Today we publish Richard Hollingsworth's response to Dave's article. Richard looks at the system from a different viewpoint and finds much to be pleased about in the new regulations.
Neil Roughton is trying to build a replica of Ole Olsen's 1975 World Final bike, but he requires some assistance - full details in our Can You Help? page.
The Diamond Geezers support team have launched a new website to chronicle their activities in Geordie Land. You can find it at www.thediamondgeezers.co.uk.
Ailsa McKinlay on A Tribute to Ken McKinlay:

"I am Ken's youngest child...Ailsa...33 yrs old...living in Perth, Western Australia...the place where he met my mum...Alexandrena (known as Rena all those years ago)

Just thought I would do a search on Dad as it was the second anniversary of his death this past week. Came across this article first up and it was quite warming to read.

Just wanted to say thank you for that."
Raymond Chitty on the site as whole

"Hi there from Canada. Was very interested to find your web page on google, Speedway has always been of interest to me as Eric Chitty was my father and as you know he was the captain of the West Ham 'Hammers' for a little while.

Many of the riders mentioned in various articles were like family to me and reading these articles brings back many memories. My Dad has been dead for many years now, but I am sure he would be happy to know that he has not been forgotten."
Graeme Bow on An interview with Dave Gifford:

"The site is excellent and does a superb job bringing together the old and the new. The article by Dave Gifford is excellent and brings back memories of seeing him ride at Coatbridge, Berwick and Edinburgh, as well as for the Wolves. Strive on Dave."
Grant Crawford on An interview with Dave Gifford:

"As Dave himself would have said 'pure b****y brilliant mate'. He's right the past was better - better because of guys like him. This article has brought back lots of happy memories of the early 70's at Coatbridge for me. There is only one bad memory I have of Dave - where the hell did he ever get those horrible grey and black leathers he used to wear? Thanks for the article and memories."
Ken Nicholson on An interview with Dave Gifford:

"This is arguably the best interview with a speedway rider that I have ever read. Witty, factual and by an exceptional character who was an old favourite!"
Sid Stanley on our Lokeren features:

"I remember first hearing this news on the radio as I was getting ready for school. I was 15 at the time and totally shocked by it. As the tribute booklet says - "Departed but not forgotten....long live their memories"
Bryn on Crayford 65 - Workington 12:

"As Max Boyce would say, "I was there!". Whilst, in hindsight, it was pretty dire, as the meeting progressed tension levels in the Crayford side of the pits rose to almost unbearable levels with none of the Kestrels wanting to be THE man to drop a point.

A further point to note is that Tony Brooks was, in fact, a Crayford junior loaned to Workington on the night as their No.8."
Garry Horton on Scunthorpe - First Impressions:

"Just read Steve Harland's article on the new track at Scunny. I have been down myself to watch the practice sessions on most sundays and have been impressed. Look forward to the start of the season. Nice to see Sean Wilson flying round the track last week."

Updated on 5th February 2005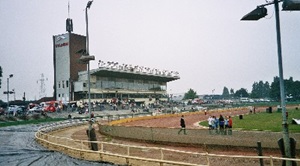 Back to track photographs as our main feature this week with these new pictures of Monmore Green in Wolverhampton. Richard Hollingsworth was the man behind the lens.
Dave Green has been looking at the new grading system being introduced into this year's Conference League, and it would be fair to say that he has reservations. Read what he thinks in Conference Constraints - Doomed to Failure.
Ken Burnett of T2TV has launched a website that details the video and DVD products that they have on offer. Check it out here.
Bill Elliot on An interview with Dave Gifford:

"Great to read about Dave Gifford after a year or twenty, particularly as I think I was one of the Tigers' fans he was referring to immediately after his recruitment by the Bandits! Remember him as a genuine character who was quite capable of going out and beating anyone in either league on any night, usually depending on whether the tapes suffered any of the little faults he referred to, or whether they managed to go skywards milliseconds before he had already decided to let his clutch go! Seem to remember we never had any difficulty figuring out what he was thinking either!"
Lawrence Heppell on An interview with Dave Gifford:

"Simply excellent"
Roger Beaman on Long Eaton Update:

"Great news that speedway will be back at Long Eaton. As a Cradley Heath fan I wish you luck and hope may we see a Long Eaton against Cradley Heath match again. Hope you get some meetings in 2005 and I will come over to have a look."
Dave Plunkett on An interview with Dave Gifford:

"I knew Giffy in NZ before he went to England and he was pretty mischievous then but a beaut bloke."

Updated on 29th January 2005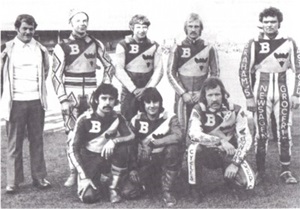 This week we bring you the second and concluding part of our interview with Dave Gifford. Dave takes us through his time with Coatbridge and Berwick, a racing trip to Norway, the end of his career and his most recent involvement with the sport. Along the way we find out about the system that guaranteed him an outside gate in second half races, the time Jack Millen set out to hospitalise him and the meetings that were refereed by a dog.
There's another speedway personality to be identified in our latest Who Am I? puzzler. Ten clues should lead you to his or her identity. If anyone can score 8 points or more then we'll be very impressed. If you missed the previous puzzlers then you can find them here and here.
Ken Burnett of T2TV video has nostalgia videos available for those who long for days gone by. Full details are here.
Scunthorpe Scorpions will be welcome and interesting additions to the Conference League this season. Keep up to date with their progress by visiting their new website at scunthorpe-speedway.co.uk.
Weymouth Wildcats have a new official website. You can find it at weymouthspeedwayclub.co.uk.
Wimbledon's Matthew Wright has relaunched his website for 2005. Full marks for the rider profile which is rather more comprehensive and informative than most. The address remains http://www.matthewwright.co.uk.
Richie Dennis also has a new very smart looking website. The address is www.dennis-racing.com.
Tom Marriott on An interview with Dave Gifford:

"This interview was a hoot! Can't wait for the next installment. I watched Dave at Sheffield and he was always good at giving autographs, I never knew he had such a good sense of humour! Keep up the good work. My only complaint is that I could do with even more updates. I can't wait for your next one. Keep up the good work on one of my favorite web sites."
Martin Jacks on An interview with Dave Gifford:

"My favourite Dave Gifford memory as a Wolves fan was Exeter away. Heat 1 was hugely anticipated: Mauger v Olsen. As many will know, in those days in the 13 heat formula this was the only programmed meeting between the teams' best riders. All eyes were on Ole and Ivan as the green light came on. Giffo streaked from the start and led the two home for an unlikely, if welcome, heat win. The other thing I remember were his grey overalls worn over his leathers. At least, they looked like overalls! Thanks for the interview and best wishes to Dave."
Ray Hensby on Ron Johnson - Fallen Idol:

"Reading this article on Ron Johnson reminded me of some of the other greats riding at that time, Tommy Price (Wembley), Vic Duggan (Harringay), Eric Chitty (West Ham) to name just a few. Happy days!"
Shelley Heath on Hackney:

"I'm Terry Heath's daughter for those who remember him. I just want to comment on the state of the stadium now. It's been turned into a bus garage but I'll never forget the fun I had back in the good old days of '88 and '89 when everybody worked as a close family - until people came and took over the stadium and re-built it. It's such a shame to see it like this in a picture. I miss going there and all the people we knew."

Updated on 23rd January 2005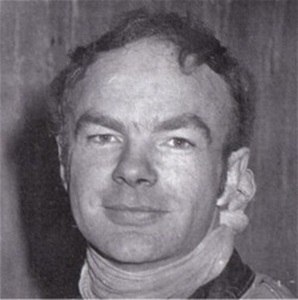 We speak to one of the sport's great characters this week. Dave Gifford, an Englishman by birth, but a Kiwi in every other respect, enjoyed a successful career in the UK that lasted from 1965 until 1978. During that time he raced in both divisions and alongside a number of riders who would go on to become World Champion.

In this first of two fascinating, humorous and honest instalments, 'Giffy' talks us through his early days in the sport, his time with Newcastle and Wolves and his experiences of racing in America. Part two will follow next week.

Join us for An Interview with Dave Gifford. This one is not to be missed!
The Canadian Speedway Riders Association website has been revamped for the new year. Dave Hensby was the webmaster reponsible.
Fans of Canadian speedway may also wish to check out the websites of father and son racers Phil Small and Michael Small.
New Monarch Daniel Nermark can now boast a personal website. The address is www.danielnermark.qn.com.
John Bailey responded to Paul Troman's concerns over Long Eaton as follows:

"Yes it is a development company but the site is protected on the Local Town Plan and must be retained as such, nothing else can be built on the site without a Stadium being included. His second point of why is the track being turned round? This is to give room to develop one half to bring in income to help support the Stadium which makes sence. The new Stadium will be safe and is protected from both a financial and local plan situation so look forward to the return of the invaders in 2006."
Gillian Holgate on Scunthorpe - First Impressions:

"This is an excellent article about Scunthorpe speedway. I myself am looking forward to seeing it back in the town. Well done to all concerned. Thank you."
Ilene Craig on Daugavpils:

"Fantastic track, really good facilities. This track puts most of our British EL track to shame. "
Geoff Langley on Ken McKinlay:

"I also saw the the great "Hurri-Ken" McKinlay at his best at West Ham. The great thing was he made the job look so easy, almost as if he wasn't trying, yet still turned in double figures week after week. An absolute master of trackcraft and wonderful tactician who could switch his racing line from inside to outside and back again with inch-perfect accuracy. In my opinion he was one of the three most styish riders of all time, along with Jack Young and Leigh Adams. Thank you, thank you, Ken."

Updated on 15th January 2005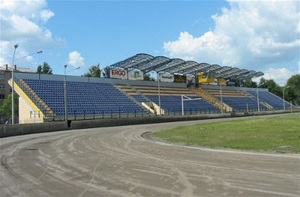 The stadium pictured above is Daugavpils in Latvia. It looks like a mightily impressive arena and certainly puts many British circuits to shame. These pictures come to us courtesy of Andrejs Trabo.
More topical talk from Dave Green this week as he turns his attention to The Laws of Averages. Has it all just become too complicated?
Steve Rogers is looking for information on a rider called Brian Rogers. Full details of his request are on our Can You Help? page.
Photographer Matt Davis has now put some of his work on line. Pictures from the New Year Classic at Newport are included. The address is www.mattdavisphotography.co.uk.
Paul Tromans on Long Eaton Update:

"I hope the plans work out for Long Eaton's sake, but I must admit to two worries. It is a Development company that is involved and it's a big investment for so little return.

Remember what happened at Hackney with their brand new stand, also why is the track being turned around?, to develop part of the site I suspect.

Anyways best of luck to you at Long Eaton, I feel you will need it in the long term."
Ruairi Spencer on Iain Davies' Dream Team

"Excellent choices. Three of my favourite riders. Kenny Carter - simply a god. Joe Owen - genius. Ivan Mauger - no comment required."
Barrie Knapp on Somerton Park:

"I have a number of programmes for this era of Newport Speedway, riders include Alby Golden, Jon Erskine, Peter Vandenburg, Jackie Biggs and so on. I also have a Test Prog; V USSR when Kurilenko rode just a metre from the boards and broke the track record....anyone remember that one? Finest ride I have ever seen even to this day, you won't see that around the current venue, the track may as well be concrete - you would get the same racing no dirt - no passing."
Paul Newcombe on Scunthorpe:

"I live in Doncaster and can not wait to go to speedway in Scunthorpe in March. I went to Scunthorpe speedway in the 70s and am looking forward to going back on a Sunday - the only day I have off work"

Updated on 8th January 2005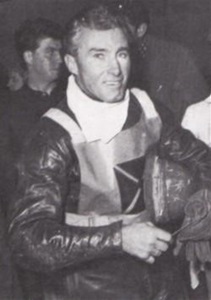 Ron Johnson, an Australian of Scots birth, is one of the sport's legends. His career spanned an incredible five decades and for most of those years he was a top performer. Sadly, by the tail end of his career he was a pale shadow of the rider he had once been. John Hyam looks back on that period of his career in Ron Johnson - Fallen Idol.
Iain Davies has followed Newcastle, Edinburgh and Glasgow over the years. His Dream Team is a combination of Newcastle legends and world stars.
The Bandits of Berwick are back online with their new official website. It's very well presented and benefits from Graham Platten's excellent photographs. It can be found at www.berwickspeedway.co.uk.
Two of Edinburgh's recently-completed 2005 squad have taken the new year as an opportunity to relaunch their official websites. Australian Cameron Woodward and Scotland's own William Lawson are both clients of GPNetMedia.com, and have been working with their site managers throughout the winter to launch the new-look sites on New Year's Day.

Cameron (www.cjwracing.com) said, "I think my new site is wicked! To be honest I was a bit scared at the huge blast of my face on the opening sequence at first, but I've kinda gotten used to it now!"

Lawson (www.williamlawsonracing.com) makes a move to the Monarchs after a difficult season with struggling Newcastle, and said "I'm really looking forward to getting back on the bike around Armadale, I can't wait for the season to get started."
Graham Hall on Station Road:

"Absolutely wonderful pictures of the old Long Eaton track. I shed a silent tear when viewing these, although good to see the pictures of the track in better times. Like many others, I live in hope that one day, Station Road will echo to that wonderful sound."
Andy Buckley-Taylor on Station Road:

"I go past the old stadium site most weeks as my wife is from Long Eaton. Looks a real mess now and speedway seems to be no nearer to returning."
Derek Yeardley on Long Eaton Update:

"Good site to keep all of us with a little something missing in our hearts (Long Eaton Speedway) hoping for the big day."
Nigel Crabtree on Andy Harris' Dream Team:

"Never a truer word spoke Andy. Rod (Hunter) definitely liked his money. I used to stop with Rod during my days at Newcastle. I always remember when we got home after a meeting Rod used to work out how much money he had earnt, take off what he had spent (NOT MUCH) eg fuel, oil, spares, fish and chips, beer, rent, gas etc. Within 30 minutes of getting home he knew how much profit he had made. What good times!"
Steve Sharp on Scunthorpe - First Impressions:

"I have just read the article and enjoyed it very much, I am very glad that Speedway is coming back to Scunthorpe. I supported the Saints when they rode at Quibell Park, and also when they became the Stags at Ashby Ville, let's hope the people of Scunthorpe get behind the Scorpians. I did read in the local paper that when they held the open training day that about 500 people turned up throughout the day to see what was going on. So I wish everyone connected with this venture the very best of luck."
A minor correction from Jim Henry on Graeme Bow's comments on Old Meadowbank:

"The opening meeting of Old Meadowbank in Edinburgh took place in 1948. Jack Young made his debut in Edinburgh in 1949.

I'll take the chance to 'plug' 'The Speedway Researcher' which is a must for all established and budding speedway historians. £4.00 inc P&P for four editions in Volume 7. Available from Graham Fraser, 7B Bruce Street, Stirling.

If you are interested in heat details from 1946 - 1948 take a look at Too Small's Middlesbrough site - News section"
Brian Read on When the Rangers Roared:

"I am pleased to have found your site. I attended New Cross from 1946 until the early 50's, and saw all the greats of that time. Besides Ron Johnson there was Bill Kitchen/Eric Chitty/Jack Parker/Ken Le Breton etc. etc.

I still have Les Wotten's and Chalky White's autographs and an almost complete set of pre-war cigarette cards.

I have very fond memories of speedway at that time."
Mike Bennett on Hackney:

"I spent a couple of good years at Len Silver's training days in the early seventies, very sad day when this track shut."
---
ARCHIVE
[ Use Desktop Version ]
Comment on this Article | Contact Us | Go Back to Main Menu