Welcome to Speedway Plus
31/08/2003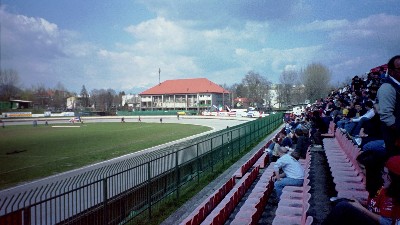 The latest track pictures from Richard Hollingsworth are of the Ljubljana circuit in Slovenia.
David Pickles left the following feeback on our pictures of Thornton Road (Ellesmere Port): "I had the pleasure of visiting Thornton Road in July 1972 to watch the Gunners vs Rayleigh, having watched the Rockets at Scunthorpe the previous night. I was with a friend Ernie and we got chatting to Colin Goad, who was at Quibell Park that night. We mentioned we were going to Ellesmere Port and he offered us not only a lift, be we stayed at his father's house the night in West Derby. The kindness shown to us was, I felt as a Londoner, typical of Liverpudlians, and I have always had a huge soft spot for them, despite the stupid stereotypes of "scousers" by us "cockneys". To know that speedway is still not running at Ellesmere Port is a travesty of justice, and I hope that one day the bikes will be back."
Another Newport Wasps website has appeared on the internet. Check it out here.
25/08/2003

All the action from Glasgow v Newcastle.
Former rider Justin Walker has been in touch with the following request:
"I am trying to get hold of copies of MBI Videos from the 1989 season when I rode for Peterborough. My previous tape was loaned to somebody and it has since disappeared. I have 2 daughters and would love to be able to show them what I used to do."
Drop us an email if you can help Justin and we'll put you in touch with him.
Northern photographer Graham Platten is one of the best in the business. His website can now be found at grahamplatten.co.uk. Graham's work regularly features in Speedway Star magazine.
A new website includes some snaps of the tracks at Wimbledon, Somerset and Rye House. It's also going to feature action photographs. Click here to pay it a visit.
A new website dedicated to former racer Gary Frankum was launched recently. Unfortunately Gary now suffers from the illness ME. The website hopes to raise awareness of the condition. The address is www.garyfrankum.com.
Aspiring riders should check out the new website from Interspan Speedway Schools.
18/08/2003

Glen Johnson supported Birmingham, Cradley Heath and Coventry. View his 'Dream Team' here.
Rory Schlein has a brand new website. It's been developed by GPNet media who are more usually associated with Newcastle riders. The address is http://www.roryschleinracing.com/
A group of amateur racers have put together a site to chronicle their adventures. Click here to check it out.
11/08/2003

All the action from Glasgow v Reading.
09/08/2003

Action pictures from last night's Edinburgh Monarchs v Somerset Rebels meeting.
Edinburgh fan Robert Elliott takes part in the latest in our 'A Matter of Opinion' series.
06/08/2003

Action pictures from Glasgow v Berwick at Ashfield on Sunday.
02/08/2003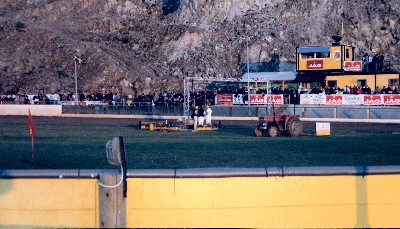 The incredible Trelawny Moto Parc has now been added to our selection of track photographs. These come to us courtesy of Richard Hollingsworth.
'A Matter of Opinion' returns today, Reuben Turner is answering the questions. Reuben (a.k.a Shale Whale) follows both Peterborough and Sheffield. We ask for his views on moving up, past successes and prospects for the future.
Brian Longman used to follow the Hackney Hawks - his Dream Team includes the incomparable Zenon Plech.
Newport 2K3 is a new website devoted to the Wasps. Presumably a name change will be in the offing around four months from now.
A trio of popular Wildcats
Speedway returns to Weymouth next weekend so we though this an opportune time to look back to the days when the Wildcats last roamed the earth. This article covers the period from 1978 until 1984. Read it here. Good luck to all those involved with the new venture at Radipole Lane.
Leanne Sampson has been following the Peterborough Panthers for the best part of a decade. Today she shares her Dream Team with us.
21/07/2003

All the action from the Berwick versus Edinburgh clash at Shielfield on Sunday.
Mark Wyver's Dream Team is populated by his favourite Canterbury Crusaders. Quite a tasty side and we'd forgotten that dear old Booey spent some time with the Crusaders. Our old friend Mark Martin makes an appearance as well.
The Weymouth Wildcats are back - find out more at their brand new website at www.weymouthwildcats.co.uk. We'll have more on the Wildcats next week.
Michelle Smith has been in touch with the following request. "I wish to obtain copies of any photographs, memorabilia or documentation relating to the driver known as Eric Stack (my father the late Ross John Smith) from Rowley Park late 60's early 70's as he has recently passed away". Drop us an email if you can help and we'll put you in touch with Michelle.
11/07/2003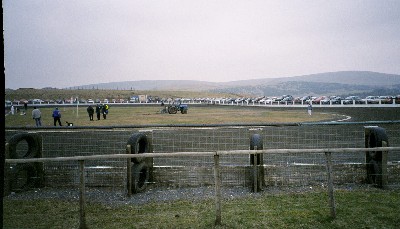 Welcome to our newest recruit Richard Hollingsworth. Richard will be submitting pictures of the tracks he visits. His first contribution are some splendid shots of the Buxton circuit.
An impressive new site intends to cover the Conference League in detail. Check it out here.
05/07/2003

Wasps on Tour : Glasgow v Newport and Edinburgh v Newport
The World Cup gets underway next month and Team Denmark, a real surprise packet last year, will start as one of the favourites this time around. Keep up to date with their preparations at http://www.teamspeedway.dk/.
We know from your correspondence that there's still a strong interest in Speedway in the Canterbury area. All former Crusaders fans will be pleased to know that a new website dedicated to the much-missed club has been launched. Click here to check it out.
Sticking with nostalgia - A collection of Trevor Meeks photographs can now be viewed and purchased online at Speedway Image Bank. Initially the site features pictures from the years 1964 to 1968. Well worth checking out.
Remember your feedback is always welcomed. Recent comments include:
Colin Smith : "It was nice to come across your tribute to my late uncle Norrie Isbister. I printed the page and gave a copy to his widow, Rosalind, who was very pleased."
Steve Ruskin : "Well there's a blast from the past. My memories of Keith are from the time that he spent at King's Lynn. At the time I was involved with the team at the time as a mechanic, and there were times that I travelled with Keith to meetings. I have to say that they were never dull journeys, and I find it rather ironic that he now has a car dealership given some of the motors that he had in those days. I seem to remember a Cortina estate that used nearly as much Water as it did Oil as it did Fuel.... certainly good times, and I'm pleased to hear that he's made a success of things for himself."
28/06/2003

Added pictures of the Dale Devils whipping the Carmarthen Dragons by 70 to 20.
19/06/2003

Paul Goodwin has submitted his All Time Dream Team and what a side it would be. Paul's only selected six World Champions in his seven rider selection.
A new website covers the sport in the Lincolnshire area. Expect features on Boston, Scunny and riders based in that area.
American fans may be interested in a new magazine that features the sport stateside. Check out 'Turn One Magazine' here.
Recent feedback includes:
Wiekus Pretorius asks - "How about some South African speedway pics ?". We're happy to include them if somebody's willing to take them!
Karina comments on George Cox's Dream Team - "Hi I'm Gordon Kennett's daughter, and I would just like to say thank you so much for saying that because I am very proud of him".
Chas 'Dusty' Dolan said - "What a sad sight the Hackney photos are. Rode there most saturday morning training sessions. Great days. Anyone know what happened to my old riding mate Allan the Aussie who used to fly round the boards, He used to help out in the pits on racenights, Lost contact with him."
John Greenfield says - "I totally agree with Brian Smith who I remember from the Saints days. He knows my brother-in-law Rod Haynes very well who rode for the Saints and Sheffield. It would be good to see speedway back in Scunthorpe as I have many memories from the old days right from the first meetings to the end. Watching riders such as Geoff Bouchard, Jack Bywater who was a great character & person. Also 'wild' Tony Childs, Nicky Allot and many more. We had a decent crowd in them days - never had great successes but entertaining meetings. It's looking very likely speedway will be back sometime in Scunthorpe as a place has been earmarked for it. Looking forward for some more days to remember.".
07/06/2003

Scunthorpe were back on track last weekend when a select side raced at Boston. Brian Smith is a Scunny fan from the old days and shares his thoughts in 'A Matter of Opinion'.
Teenage sensation William Lawson has launched a personal website. It's another that's been designed by the prolific Graeme Paterson. You'll find it at http://www.williamlawsonracing.com/.
---
ARCHIVE
[ Use Mobile Version ]
Comment on this Article | Contact Us | Go Back to Main Menu